I Tested Canada Goose's New Outerwear In Arctic Conditions So You Don't Have To
The cold never bothered me anyway.
Courtesy of Natasha Marsh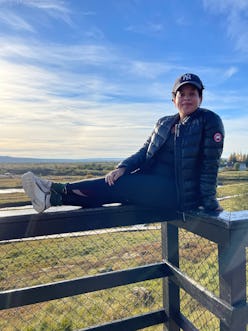 My first New York City winter was a rude awakening to how harsh East Coast winters can be. As a Southern California native who grew up amongst palm trees, I never needed durable winter shoes — so I experienced many falls that season for lack of traction. I also didn't own ear muffs or functional beanies so when the wind would hit me, I would really feel it. All the while, the growing need for a warm winter coat became apparent every day. This year, I won't let that happen. Enter: Canada Goose's Fall/Winter 2022 collection.
My interest in the outerwear brand began years ago, when a friend of mine, who swore by the label, insisted that her Canada Goose long puffer jacket was insulated and cozy enough to wear it with nothing but a bra underneath. Soon, I started seeing the brand's iconic red label (symbolic of the Arctic Circle) all over the streets of New York. (Not to mention the media: Created in 1957 in Toronto, the company's creations have been worn by everyone from scientists in Antarctica to Kate Middleton and Rihanna.)
At the time, my intern salary could not stomach the price (lighter jackets run in the $500 to $800 range, while full-on parkas tend to be between $1,000 and $1,500) and I was forced to settle for more affordable alternatives. So when I was invited on a press trip last month — in Iceland, no less — to try the brand's latest offerings, you better believe the reporter in me was ready to see how the pieces fared in the country's famously fickle weather.
The week-long adventure consisted of horseback riding to historical arctic glaciers, leisure hikes amidst two tectonic plates, lunch in a tomato greenhouse, and so much more — all at temperatures ranging from 6°F to 50°F. But thanks to my new gear, the chilling weather didn't spoil my experience. Having tried a handful of the label's freshest selection, I can confidently say I would spend my own money on the pieces, a bold statement coming from a fashion and beauty editor who is often gifted with products.
Ahead, I'm compiled my favorite options from Canada Goose's Fall/Winter 2022 collection with notes on how they held up in the elements.
We may receive a portion of sales if you purchase a product through a link in this article.
Cypress Down Vest
There are vests and then there is the Cypress Down Vest. Made with 100% recycled nylon, it is the perfect top layer for mid fall and a great layering option when winter hits in earnest. You can throw a coat over the lightweight design without looking bulky, so consider keeping it on hand when you need to up the warmth factor on all your autumn jackets.
Marlow Coat
courtesy of Natasha Marsh
courtesy of Natasha Marsh
After an hour of wearing the Marlow Coat at a brisk outdoor dinner, it quickly became my top pick from the line. The sleek, protective, and opulent outerwear is made from Ventera, a luxurious fabric with a smooth, soft-to-the-touch finish. I love the adjustable, removable belt that perfectly highlights my curvy figure — a feminine touch I always look for.
Muskoka Hoody & Pant Garment Dye Pocket Label
Because this polished outdoorsy set doubles as a cozy stay-at-home essential, it is something you'll return to often. Made with 100% cotton, it's baby-soft, roomy, and effortlessly breathable. I spent eight hours hiking, walking, eating, and exploring in it and never once felt uncomfortable. The adjustable drawstring made it easy to customize my fit when needed and the medium weight fabric was fantastic in the chillier temperatures.
Cypress Down Jacket
The Cypress Down Jacket is lightweight and has a modern puffer design and lots of versatile features for wearing in city environments, and doubles as a great transitional option for nature activities. I've even taken it with me to Santa Barbara, California, where ocean winds can sometimes get the best of me (but still don't require a full-on parka).