Black-Owned Brands Across Fashion, Beauty, Wellness, Home Decor, & Food To Have On Your Radar
@_edas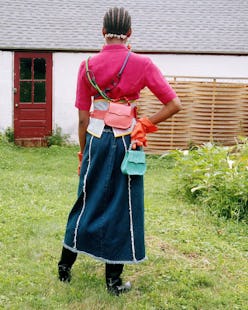 The coronavirus has taken a heavy toll on businesses around the world, but those that are Black-owned are at a disproportionally higher risk of not recovering. According to CNN, "Almost half of Black-owned businesses are in industries — such as administrative and support services, health care and social assistance, and retail — that are bearing the brunt of this pandemic." One small part you can do on your end to support is shop Black-owned brands in fashion, beauty, wellness, home decor, food, and beyond.
You likely already know about fashion designer Aurora James' 15 Percent Pledge and other industry experts are following suit to spotlight Black-owned businesses. Beyoncé's stylist Zerina Akers launched Black Owned Everything just this month to broaden the online retail scope when it comes to diverse offerings. Black Owned Everything, as the name suggests, highlights both established and emerging Black-owned businesses across the fashion, beauty, and lifestyle categories. Though purchasing goods is by no means the final solution to dismantling systemic racism, it's a conscious act that brings money back into the Black community to foster jobs and preserve the culture. Below, find options to shop from a wide breadth of categories including fashion, beauty, wellness, home, and food. And be sure not to just make a one-time purchase: These companies should have your continuous loyalty.
We only include products that have been independently selected by The Zoe Report's editorial team. However, we may receive a portion of sales if you purchase a product through a link in this article.
Black-Owned Brands: Clothing
Tove Studio
Co-founded by Camille Perry, Tove Studio is notable for its feminine, yet modern pieces. Looking for the *perfect* summer dress you'll wear over and over? This is the label to find it.
Aliya Wanek
Fixated on comfort, Aliya Wanek pieces are meant for feeling good in. Founded in 2016 by Aliya Wanek (who sews some of the garments herself), the label offers up sustainable, ethical clothing.
House of Aama
Born in 2015, House of Aama is a label created by a mother daughter duo consisting of Rebecca Henry and Akua Shabaka. The Los Angeles-based brand "explores the folkways of the Black experience by designing timeless garment with nostalgic references informed by historical research, archival analysis, and storytelling."
Wales Bonner
In 2014 Grace Wales Bonner founded her eponymous label first as a menswear brand. Today, the label has expanded its selection to womenswear, including cool boyish trousers and retro bowling shirts.
Zelie for She
Based in Los Angeles, Zelie for She is a plus-size clothing label. Founder Elann Zelie created her brand with the intent for its products to be a limited run, meaning don't think too long on an item you love.
Sincerely, Tommy
Located in Brooklyn, Sincerely, Tommy is a lifestyle concept store founded by Kai Avent-deLeon. Though the storefront is temporarily closed, shop through its chic selection online. The lineup is both on-trend and classic.
Cushnie
Created by Carly Cushnie in 2008, Cushnie is a luxury women's ready-to-wear and bridal brand. The designs showcase a lovely harmony of clean lines and beautiful tailoring.
Slashed by Tia
Slashed by Tia came to life out of Teni "Tia" Adeola's dorm room at Parsons. And with only four years under its belt, its signature ruffles have already been spotted on the likes of Gigi Hadid and SZA.
Fe Noel
Designed and owned by Felisha "Fe" Noel, the womenswear label is influenced by her Grenadian heritage. Designed in Brooklyn, the pieces explode with bright hues and intriguing prints.
KAI
Fashion and travel blogger Fisayo Longe created hr London-based brand KAI in 2016. Longe travels the world finding design inspiration, luxe fabrics, and ethical manufacturers to work with.
ZAZAII
Launched in 2009 by Isoken Ogiemwonyi, ZAZAII offers a curation of sourced and designed collections from both up-and-coming and established brands. Its pieces can easily be dressed up or down, and are perfect for many occasions.
AMA NWOKE
Designer AMA NWOKE is best known for its impeccable tailoring, luxe fabrics, and vivid suits. Though its primarily a RTW label, it has a few dreamy bags in its lineup.
Aisling Camps
Knitwear designer Aisling Camps has a history of A-listers rocking her pieces, like Cardi B, Tracee Ellis Ross, and Gabrielle Union. Camps runs her brand solo, creating everything from the sketches to the Instagram content.
Elia Vintage
Amber Glaspie knows how to score incredible vintage, and shares her talents through her brand Elia Vintage, Head over to its site for cool oversized blazers, skirt sets, bralettes, and loose trousers.
Phlemuns
Founded by James Flemons in 2014, Los Angeles-based label Phlemuns is known for its cool street wear. The genderless line creates loose loungewear and as of late is incorporating its cloud print on many pieces in the collection (including a mask).
Cold Laundry
Based in London, Cold Laundry is a unisex label established by Ola Alabi in 2019. Its Spring/Summer 2020 collection, Redemption, displays soft pastel hues and oversized silhouettes.
Daily Paper
For all your summer tie-dye needs, turn to Daily Paper. Founded by Hussein Suleiman, Jefferson Osei, and Abderrahmane Trabsin in 2008, the Amsterdam-based label started out as a blog and later developed into a menswear and womenswear brand.
Orange Culture
Adebayo Oke-Lawal debuted his label Orange Culture at Lagos Fashion and Design Week in 2011. The pieces, which are made for both men and women, are all manufactured in Lagos, with fabrics ethically sourced from local Nigerian fabric makers.
Tongoro
Launched in 2016 by Sarah DIOUF, Tongoro's pieces are all made exclusively in Africa. The label offers up ready to wear splashed with striking prints, as well as accessories like handbags and jewelry.
Kahindo
Kahindo is a luxury sustainable womenswear brand founded by Kahindo Mateene. Its apparel is designed in New York and ethically made in Africa. Shop one of its stylish face masks or its Spring/Summer 2020 collection.
Black-Owned Brands: Handbags
AAKS
Akosua Afriyie-Kumi founded her handbag label with the mission of showing the world weaving techniques completed by the women of Ghana. The vivid bags are handcrafted in Ghana, embodying the spirit and durability of their ancestral counterparts.
Ashya
Founders Ashley Cimone and Moya Annece created their handbag bag Ashya in 2017. In its collection belt bags, crossbody bags, and passport holders.
VAVVOUNE
VAVVOUNE was created by Valerie Blaise in Brooklyn. The leather accessories brand is wearable while "hinting spunk in effortless ways of impression."
Petit Kouraj
Nasrin Jean-Baptiste was a fashion stylist before she created her handbag brand Petit Kouraj in 2018. The brand is based in Brooklyn and handmade in Haiti. Snag one of its playful fringe bags for a day on the beach.
Yvonne Koné
If you love a good fanny pack, you'll obsess over Yvonne Koné. The brand, founded by Yvonne Koné in 2011, makes luxury Italian-made leather goods. The design process behind the pieces is practicality through its texture, meets playful by way of its color that nods to its African roots.
Laurus
Looking to invest in a new handbag? Consider one of Laurus' chic exotic skin handbags. The two most used skins are crocodile and ostrich, offered in an assortment of different shapes and colors.
Tree Fairfax
Tree Fairfax is full of handmade leather goods in timeless silhouettes. Its collection include shapes like half moon waist and crossbody, mini moon wallets, square totes, and a woven clutch.
Joanna Vanderpuije
Based in London, Joanna Vanderpuije is a handcrafted, screen printed accessories and apparel label. Vanderpuije founded the brand in 2017 after spending time at luxury fashion houses like Alexander McQueen, Jonathan Saunders, and Diane Von Furstenberg.
ROOP
Love a good hair scrunchie? Try the style via handbag with ROOPS selection of furoshiki scrunchie bags. Founded by Natasha Fernandes Anjo, the emerging label sells bags in vibrant hues and intriguing patterns.
Bruce Glen
Created by identical twins, Bruce and Glen, the accessories label features circular and bucket bags, as well as large totes. And if you're feeling nostalgic, there's a fun selection of slap bracelets.
Zaaf Collection
If you're in the market for new luggage, look no further than Zaaf Collection. Founded in 2014 by Abai Schulze, the brand makes durable leather totes for both men and women.
WANT Les Essentiels
Byron and Dexter Peart launched WANT Les Essentiels in 2007. The brand features a range of bags for men and women including backpacks, clutches, crossbody, and briefcases.
Brandon Blackwood
In the spring of 2015, designer Brandon Blackwood launched a four-piece collection of leather bags. Now the brand's selection has expanded to multiple different bag silhouettes, coats, and furry slide-on shoes.
Love, Cortnie
Based in Miami, Love, Cortnie handbags are handmade by its founder Cortnie Elizabeth. Established in 2011, the brand sells styles in furry, leather, and calf hair finishes.
Zashadu
Zashadu's founder Zainab Ashadu has been passionate about handbags since she first laid eyes on one of her mother's clutches at the age of eight. Ashadu is based out of Lagos and specializes in leather bags.
Black-Owned Brands: Jewelry
Edas
Founder Sade Mims created Edas with a focus on "sustainability while using unusual home-goods and refurbished elements." The Brooklyn-based label features unique handbags and handmade jewelry.
Serendipitous Project
Sydney Ziems created Serendipitous Project in 2019 aiming to give consumers an affordable and sustainable option for on-trend jewelry. Each piece is handmade to minimize waste.
Third Crown
Based in New York City, Third Crown is a contemporary jewelry brand founded by Kristin and Kofi Essel. The pieces embody the designers' love for geometric shapes. The husband-and-wife duo decided to create gender neutral everyday statement jewelry.
Yam
Handmade in Queens New York, founder Morgan Thomas created Yam after her mom brought her home a jewelry making book a child. She later turned her hobby into a business, with an aesthetic that carries an "up-cycled, vintage appeal."
Lola Ade
Lola Ade founded her jewelry label in 2010 with inspiration pulled from things and places she's seen. She aims to give both minimalists and maximalists beautiful jewelry.
Sun & Selene
Sun & Selene was created by Brittanny Chanel DeRaffele in 2017. Based i Richmond, Virginia, the jewelry is hand fabricated, hammered, polished, and finished in small batches from recycled metals and natural gemstones.
Valerie Madison Jewelry
Valerie Madison built her jewelry brand with a vision of serving customers with quality and aesthetically pleasing pieces. Every piece is handcrafted in Seattle created from high-quality precious metals.
Mateo
Matthew Harris founded Mateo jewelry in 2009, first focusing on men's jewelry. But in 2014, the label switched gears to focus on women's fine jewelry. The minimalist label is also a celebrity-favorite, often seen on the likes of Kerry Washington, Gabrielle Union, and Yara Shahidi.
Dixie Graze
Jewelry brand Dixie Grace initially started out as a hobby for founder Hanna Grace in 2013. The jewelry fanatic was tired of not being able to find jewelry that lasted, so she started creating her own. You can customize your own necklace or choose from its assortment of dainty jewels.
Humans Before Handles
Humans Before Handles was created with a mission to give customers the perfect statement earring. Founded by Ash Sims, the brand sells vivid earrings, studs, clip ons, and necklaces.
SOKO
Started in 2020 by Catherine Mahugu, SOKO "brings together a modern aesthetic with global market access to artisan communities in Kenya." The jewelry brand uses materials including wood, brass, and horn and bone to create its pieces.
Lorraine West
While studying illustration at The Fashion Institute of Technology, Lorraine West decided to take up jewelry design, too. Now the founder is notable for her minimal jewelry that comes in silver, gold, and rose gold.
Black-Owned Brands: Shoes
Brother Vellies
A cult-favorite amongst the fashion industry, Brother Vellies is known for its ultra-trendy shoes and accessories. Aurora James founded the brand in 2013 with a goal of "keeping traditional African design practices, and techniques alive while also creating and sustaining artisanal jobs."
ZOU XOU
Made in Buenos Aires, Zou Xou focuses on shoes that are both versatile and practical. Katherine Theobalds established her brand to feature classic styles while also keeping an eye on trends.
Loza Maléombho
Loza Maléombho gained experience by working at luxury fashion houses before launching her own brand. In 2009, the shoe designer launched Loza Maléombho, which can best be described as "a fusion between traditional cultures/ sub-cultures and contemporary fashion."
Keeyahri
Founded by Keya Martin, Keeyahri is full of architectural, sculpture like heels. Wear the shoes or use them as an alternative to home decor by displaying them on your dresser.
Shekudo
Starting out as a clothing brand, Shekudo was established in Sydney, Australia. It's currently under the sole creative direction of Akudo Iheakanwa, and has relaunched the label into footwear and accessories. Most of the brand's raw materials are found or produced locally.
Salone Monet
In 2018 Salone Monet Johnson created her shoe brand Salone Monet, which consists of six shades of nude heels. According to its website, "we believe every woman should know the effortless style of a thoughtfully designed nude shoe that highlights her complexion."
Ade Samuel
Stylist Ade Samuel, who works with celebs like Justine Skye and Michael B. Jordan, created her own line of shoes in 2016. The Los Angeles-based shoe brand currently has its first collection on the site, with heel styles including two-tone, open-toe, and buckles.
Black-Owned Brands: Swimwear
Mint Swim
Draya Howard, actress and entrepreneur, created Mint Swim in 2011 with all shapes and sizes at top of mind. The brand offers up an assortment of fashionable swimwear at affordable prices.
Lemlem
After an inspiring trip to her native Ethiopia, Liya Kebede created Lemlem in 2007. Its range of swimwear is booming with vivid hues and cool details.
Jade Swim
Brittany Kozerski, fashion editor and stylist, founded Jade Swim in 2016. The minimalist swimwear brand uses luxe fabrics in sleek, minimal designs.
Riot Swim
If you lean toward swimwear with minimal designs, check out Riot Swim. Created by Monti Landers, the brand offers a curation of simple, yet sleek one-pieces and bikinis.
XhaleSwim
Founded by Jessica Wong, Xhale Swim's suits are handmade by a seamstress in Miami. The pieces are designed to be reversible, so you can wear its one-piece or bikinis different ways.
Dos Swim
After working at Opening Ceremony together, Shay Johnson and Paula Hess founded Dos Swim in 2019. The duo started making swimsuits for a trip to Tulum, and later decided to get fabrics from the garment district and sell the suits to friends over Instagram. After receiving an overwhelming amount of inquiries, they launched their brand.
Andrea Iyamah
Dumebi Iyamah started her brand Andrea Iyamah when she was just 17 years old. Based in Ontario and Lagos, the label is recognized for its unique swimwear. And in addition to swimwear, Andrea Iyamah also features stylish ready-to-wear.
Black-Owned Brands: Makeup
UOMA Beauty
In 2019 Sharon Culter founded UOMA Beauty. The brand includes everything from glittery lipstick to ultra-slim brow pencils.
Pat McGrath Labs
Pat McGrath has become a household name for her work behind some of the most talked about makeup on models during fashion week. Her products get rave reviews, and with good reason. One swipe of an eyeshadow has impressive pigmentation, while her lip glosses will have your pout glistening from across the room.
Mented Cosmetics
The lightbulb idea behind Mented Cosmetics was over a glass of pinot. Founders KJ Miller and Amanda E. Johnson discussed the struggle to find the *perfect* nude lipstick so they created a brand that would make it a breeze.
Danessa Myricks
Makeup artist Danessa Myricks created her brand to work on a broad range of skin tones. The brand features, "a playground of customizable colors and texture designed for both professional makeup artists and everyday consumers." With that said, it gives both consumers and artists the ability to create and customize a variety of looks with its products.
Range Beauty
Alicia Scott started her career in fashion before creating Range Beauty. The entrepreneur noticed a lack of shades available when she was at runway shows and photo shoots, so she decided to create her brand Range to provide consumers with a wide variety of shades and ingredients that won't irritate your skin.
Bossy Cosmetics
Prior to creating Bossy Cosmetics, Aishetu Dozie was an investment banker and "lipstick junkie" at heart. Her mission is to empower women to look and feel amazing in lip products that are cruelty.
Pear Nova
Nail polish brand Pear Nova was founded by Rachel James in 2012. Designed in Chicago, the polishes are five free, meaning free of formaldehyde, formaldehyde resin, camphor, toluene, and dibutyl Phthalate DBP.
Beauty Bakerie
Cashmere Nicole started Beauty Bakerie with the goal to make smudge-free makeup that doesn't need to constantly be touched up throughout the day. The product assortment includes lips, eyes, and face. Plus, there's even a foundation finder to assist in finding the perfect match.
Coloured Raine Cosmetics
Loraine R. Dowdy left behind her finance career to pursue her dream of owning a beauty brand, and started Coloured Raine Cosmetics in 2013. Dowdy's mission for her brand has always been to "spread awareness of diversity through beauty and to embrace all aspects of color through unity."
Gold Label Cosmetics
After becoming an on screen talent for FYI's B.O.R.N. to Style, Kristen Elise Brown noticed a lacking inclusive imagery in the field. She then created Gold Label Cosmetics in 2013 to celebrate loving the skin you're in.
Black-Owned Brands: Skincare
ROSEN Skincare
ROSEN Skincare's founder Jamika Martin has battled acne for most of her life and wanted a way to clear up her skin, without slathering it with harmful ingredients. She established her brand to provide young women with clean ingredients to treat acne naturally.
Epara Skincare
The brand's name Epara means ""to cocoon oneself" in the Nigerian dialect of Ebira. Founder Ozohu Adoh battled a dry, uneven skin condition and couldn't find products to treat it. So since she couldn't find any that catered to her condition, she created her own luxury line.
Hanahana Beauty
Abena Boamah-Acheampong built her brand when she wasn't able to find the skincare products she needed on the market. She created Hanahana Beauty around the one product that never fell short — shea butter. The assortment is all-natural, clean, and the shea butter is sourced directly from Tamale, Ghana.
Bolden
Co-founders Chinelo Chidozie and Ndidi Obidoa established Bolden Skincare specifically formulated for people of color. Bolden's product selection features a moisturizer, mask, cleanser, toner, spot treatment, shea butter oil, and more.
Black Girl Sunscreen
Black Girl Sunscreen was launched to provide melanin women with a sunscreen brand that is exclusively catered to them. The brand was created in 2016 in Miami, Florida by Shontay Lundy. The founder's mission was to create non-white residue sunscreen for women of color.
Ceylon Skincare
Ceylon skincare is formulated specifically for men of color. Established by Patrick Boateng II, the brand is aimed to provide men with products that fit their basic needs.
Good Beaute' Skincare
Kimberly Hairston-Hicks started Good Beaute' Skincare with the belief that Black women deserve purposeful research and product development in the beauty industry. Products included in its lineup are a Vita C cleanser, Vita C moisturizer, Vita C serum, and an eye balm.
Skin By Nequai
Skin By Nequai was established from Shanah-Nequai Rieara's desire for clear skin and love for the environment. Its hand-crafted skincare line is handmade in the U.S. Virgin Islands and features a detox clay mask, facial mask brush, and rose face mist.
AbsoluteJOI
Dr. Anne developed AbsoluteJOI to give women a clean, effective, and simple skincare routine. The line was inspired by Dr. Anne's daughters who wanted to learn how to take better care of their skin as they got older, but were overwhelmed with all the options on the market. AbsoluteJOI's best-selling product is its Skin Refining Night Oil with Retinol and Vitamins C+E.
JACQ'S
JACQ'S is a skincare line for women of color created by Barbara Jacques. She started JACQ'S after getting the news of an ovarian tumor at the same time of finding out she was expecting a child. Jacques began formulating products using non-toxic solutions that met the challenges of her changing body, and later JACQ'S was born.
Black-Owned Brands: Haircare
Briogeo
Nancy Twine saw a need for natural haircare in the market, so she started Briogeo with her grandmother's beauty recipes in her East Village studio apartment. The brand caters to every hair type, meaning there's a product for everyone.
Vernon François
Vernon François is both a celebrity hairstylist and founder of his brand Vernon François. In the collection are products suitable for every hair type, and its oils are sourced in Africa where the brand works with local farmers.
Pattern Beauty
Created by actress and singer Tracee Ellis Ross, Pattern Beauty promises to "meet your hair where it is & empower your curl pattern." It also vows to keep you hair healthy and hydrated through its line of products.
OOLI
Based in Brooklyn, OOLI's plant based products are specifically meant for customers with locs. Founder Jessica Pritchett created the brand in 2018 to give both women and men products formulated with ingredients they can trust.
Loving Culture
In 2013, Mary-Andree Ardouin-Guerrier founded haircare brand Loving Culture when she was in the transition of making her life more holistic. The brand's mission is to promote toxic-free self care through the use of its certified organic holistic hair oil.
Many Ethnicities
Dr. Ena Hennegan, mother and board-certified practicing family physician, created Many Ethnicities in 2014. The haircare brand started when the doctor was frustrated with the lack of healthy hair products on the market for multi-textured hair. Many Ethnicities offers haircare products for adults and children.
Bouclème
Michele Scott-Lynch created Bouclème with a desire to have healthy, frizz-free curls using hair products formulated with natural ingredients. Shop its product assortment by curl type for the best possible match.
Black-Owned Brands: Wellness
The Honey Pot
Bea Dixon built The Honey Pot after suffering from bacterial vaginosis for months. Its natural feminine care products are made without chemicals, toxins, artificial fragrance, or anything synthetic. Plus, when you buy from the brand, you're provide menstrual care for women who can't afford it.
Movita Organics
Tonya Lewis Lee created her wellness brand Motiva with a mission for women to grasp a baseline of good health. Products include multivitamins, prenatal, beauty vitamins.
Ebi
Ebi is a plant-based postpartum care line meant to support new mothers with their health and well-being. The brand offers products like oil, herbal sitz bath, underwear, and nipple pads.
Heritage Apothecary
Founded in 2016, Heritage Apothecary is brand centered around home and energy balancing products. Its goal is to "to honor the beauty and sacred nature of plants in a contemporary way." Included in its selection are products like incense, sage, cleansing mist, and a smudging kit. The brand donates to Trees For The Future from every order it receives, which is even more reason to purchase from it.
Goodnight Darling Co.
Founder Aycee Brown suffered from insomnia, and after research she began to develop a routine that worked. Her brand Goodnight Darling Co. features products (like pillow spray, tea blends, bath soaks, and candles) that align with her sleeping method.
K'dara CBD
K'dara CBD just launched in Febraury 2020 by Katrina Thompkins, a ICU nurse who is serving on the frontlines of COVID-19 in New York City. The wellness line has a wide variety of CBD including bath bombs, gummies, and dog treats.
Black-Owned Brands: Home Decor
Claude Home
Maggie Holladay is the founder of Instagram-favorite vintage home brand Claude Home. The brand sells unique vintage furniture and home decor, and has a showroom in the East Village.
xN Studio
Based in Brooklyn, xN Studio is a home decor brand, all made in either Washington D.C. or Brooklyn. The brand's noteworthy pillows add an artistic touch to any space.
The Coy Collection
The Coy Collection is a mix of ceramics and earrings, all made by its founder Coy in Austin, Texas. For a mood lifter, opt for its smiley mug. Or if you're on the hunt for a unique piece of furniture, consider its light pink Coil Side Table.
Caravan Home
Created by Kamilah and Guara Tibbitts, Caravan Home boasts a collection of modern, unexpected home decor. Its offerings include kitchen staples like glasswear and napkins, as well as rugs and wall art.
Studio Artificer
Co-founded by Ceramicist Isatu Hyde and woodworker and furniture maker Kai Venus-Demetrio, Studio Artificer is created in their South Shropshire workshop. Each one-of-a-kind piece is handmade and will give a unique touch to your space.
Tackussanu Senegal
Started by Jasz and Cheikh Biaye in 2019, Tackussanu Senegal helps female artisans to have a place to sell their beautiful baskets. Purchase a basket to liven up your space while supporting these talented females.
Wildfang Home
For trendy vintage home decor, up-and-coming shop Wildfang Home has you covered. Founded by Hana Nagel, the shop sells exciting pieces like mushroom lamps and watercolor artwork that can be bought through Direct Message on Instagram or on its website.
Black-Owned Brands: Food
Parktake
Founder Denise Woodard never worried about food allergies until giving birth to her daughter Vivienne, who had many. After struggling to find healthy snacks at the store that her daughter was able to eat, she decided to create her own. Partake features a wide assortment of cookies that are free from the Top 8 Allergens (peanuts, tree nuts, eggs, wheat, milk, soy, fish, shellfish).
Red Bay Coffee
For you or the coffee lover in your house, buy your next bag of beans from Red Bay Coffee. Born in 2014 by Keba Konte, the brand sells high quality and sustainable coffee.
Southern Culture Artisan Foods
Southern Culture Artisan Foods was created by mother-daughter duo with a mission to give customers easy access to affordable meals. You'll find tasty foods like pancake mixes, bacon rub, and ground grits on its website.
Pipcorn
Wanting to create more diversity in the natural foods space, in 2012 siblings Jen and Jeff Martin founded Pipcorn in Brooklyn. Have a park hangout with friends on your calendar? Bring one of Pipcorn's tasty corn dippers or a bag of its flavored popcorn or cheese balls.
JIVE Juice
On your next grocery trip to Whole Foods consider throwing in a few juices from JIVE Juice into your cart. The juice brand was started by Tamala Austin, a Certified Health Coach, after she made juices and smoothies for her family and friends who wanted to live a healthier life.