The Best Duster Coats To Add To Your Transitional Weather Wardrobe
Light and effortless layers for the win.
Edward Berthelot/Getty Images Entertainment/Getty Images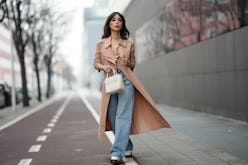 We may receive a portion of sales if you purchase a product through a link in this article.
Known for their ankle-skimming lengths, relaxed fits, and lightweight constructions, duster coats have been an outerwear staple for decades. They particularly come in handy during the change of seasons, which can often bring unpredictable weather that requires a new level of layering aside from your go-to puffer coat that you wore all winter. So if you're after something that can accommodate those days when it's just warm-ish (and layer nicely over your sweaters, without adding any extra bulk), the best duster coats are exactly what you need.
The beauty of duster coats is that they offer longer lengths to add some definition to your everyday outfit, but don't necessarily overpower your look the way a puffer or heavy winter coat would. It'll still give you a layer of protection while being a part of your outfit instead of just covering it. If you're after even more coziness (who isn't?), try a long cardigan in a substantial knit that can stand in for a coat — duster cardigans are having a moment.
Below, you'll find an array of stylish dusters and cardigans that will fit well in almost every closet, from chic belted trenches and double-breasted coats to cozy long-line sweater jackets you'll want to wear everywhere. And the best part is that they're all available on Amazon, so you can get them in little to no time at all.