The Upward Slope Of Modern Ski Style
After a century of evolution, we've reached peak Alpine chic.
Slim Aarons/Getty Images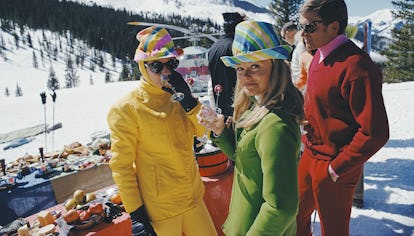 This winter, ski wear took over the fashion discourse. Khaite launched a ski capsule; fashion labels cross-pollinated with sport-first brands — see the LoveShackFancy x Bogner Fire + Ice collab and Michael Kors and Ellesse drop — to create on-trend pieces for the slopes; and legacy houses like Prada partnered with Aspenx to make designer puffers. Mountain style, which encompasses what you wear on and off the slopes, has become a major lifestyle selling point for brands and retailers as shoppers look to adopt an Alpine-chic aesthetic.
The Depop team reports that it saw the terms "ski jacket" increase in search by 135% in 2022 and "ski pants" by 112%. Pinterest notes that searches for "après ski style" on its website were 12 times greater when comparing the data from December 2021 to December 2022. On the retailer side, the MatchesFashion team tells TRZ via email that its ski category grew by +35% for Spring/Summer 2023, showing that customers are heavily invested in this area.
If you're wondering why ski style is so hot right now, this can be linked to several factors. But the most impactful might be a post-lockdown return to travel. The Denver-based National Ski Areas Association reported that in 2021, the 358 ski resorts in the United States generated $4.3 billion in annual sales, roughly a 3.8% annual bump compared to the previous year. Along these lines, when you're "out of office" and posting to the 'Gram, there is an unspoken pressure to have your vacation ensembles — no matter if you're on the slopes in Aspen or on a beach in Mexico — be picture perfect.
"With the rise of Instagram and TikTok, people are trying to create these bold and vibrant images for content," shares Apparis founder Lauren Nouchi who recently launched a ski capsule in December 2022. "People want to feel special and they want to look different." Rebecca Hessel Cohen, founder of LoveShackFancy, agrees. "I love to ski and obviously love fashion, so I'm always trying to make sure that my outfit is cute, even on the slopes," she adds.
While social media continues to fuel people's desire for an on-trend, fashion element in every aspect of their lives, brands and retailers are happy to fill that void — right down to a Slim Aarons-worthy ski look. (Cue an influencer in a houndstooth printed suit posing against tall, snow-covered evergreen trees.) Nowadays, it's all about how you can stand out on the mountain versus the 1930s when everyone wore the same style of snow pants and that was it.
The slope fashion category is only continuing to grow — WWD reports that the domestic ski jacket market is expected to reach $2.26 billion in annual sales by 2031 alone — but this is hardly the first time shoppers have taken notice. To better understand how ski fashion has become what it is today, scroll ahead to see how it has chansged over the years. Along the way, you might even spot correlations between the colors and silhouettes trending today and what was popular, say in the '70s or '80s.
'20s To '30s
Back in the 1920s, women would wear ankle-length skirts and chunky sweaters to ski in. After the first-ever Winter Olympics were held in Chamonix, France in 1924, however, European designers such as Lucien Lelong, Egidio Scaioni, and Madeleine Vionnet began to produce more fashionable ski wear that included two-piece pantsuits and warm knit accessories. The Norwegian trousers, specifically, became popular with women in the '30s as they were more practical to wear than skirts.
Skiers on Mont Revard in 1935.Roger Viollet via Getty Images
A woman wears a ski outfit by fashion designer Jane Régny in 1930.Luigi Diaz/Hulton Archive/Getty Images
In addition, up until the '30s, wool (and fur) were primarily the choice for ski wear, but when American fashion label Eddie Bauer introduced the first goose-down jacket in 1936, skiers started to opt for this lightweight, warm, and waterproof material over wool. Around this time, too, skiing as a recreational activity in the United States boomed when the first chairlift opened in Sun Valley, Idaho at the Sun Valley Resort. This was the first destination ski resort in the United States, created by the Union Pacific, and upon opening, it immediately attracted wealthy vacationers to the area.
'40s To '50s
Several major moments defined mountain attire in the middle of the 20th century. First, you can thank Emilio Pucci for creating the one-piece ski suit. In 1947, the Italian designer and his artistic director, Massimo Giorgetti, introduced chalet style with their form-fitting, colorful ski uniforms, which caught Harper's Bazaar editor Diana Vreeland's attention. Vreeland then published Pucci's ski suit creations in a 1948 issue of the glossy — and the rest is history.
In the '50s, the French term après ski, which translates to "after ski," was coined in Europe. The fashion, likewise, followed this vernacular as skiers looked for stylish, technical pieces that could be worn on on the slopes and look put-together at the lodge later. The growing popularity of the sport as a pastime in the '50s meant skiers could experiment with their outfits beyond having it just be functional.
Skiers wear Bogner's pants design.Bogner
Alphine skier Jannette Burrat at Sun Valley in 1952.Keystone/Hulton Archive/Getty Images
In 1952, German fashion designer and professional skier Maria Bogner created the first stretch ski pants that showcased the curves in a female body, thereby ushering in the "sexy ski wear" era. They were made of nylon and wool in a rainbow of bright shades, which was riveting at the time because skiers were used to colors such as black, navy, gray, and forest green. Bogner gave them hues like red, royal blue, brown, and beige. Fashionable ladies of the time such as Jackie Kennedy, Marilynlin Monroe, and Brigitte Bardot all wore Bogner's bottoms on the slopes, which further popularized the look.
"Early on, Maria brought in that off-mountain fashion element [to more traditional ski wear]," says Linda Ashman, vice president of sales and marketing at Bogner. "You could wear her pants while skiing in the Alps or Aspen, then easily walk around the villages in them for that chic [après ski fashion moment]."
'60s To '70s
Spandex, which was invented in 1959, ushered in the formfitting, slim mountain outfit look. Puffer outerwear and brightly patterned sweaters styled with said stretch pants became the most common look on the mountain. (American photographer Slim Aarons captured this fashion notably during this time.)
The '60s brought in the snood as well as mod ski goggles, inspired by space-age fashion, as Apollo 11 landed on the moon in 1969. Silver lurex and vinyl also popped up on the slopes. Meanwhile, designers like Christian Dior, Pierre Cardin, and André Courrèges started producing high-fashion ski wear lines that appealed to jet-setters like Sophia Loren and Princess Grace of Monaco.
The ski fashion scene in Vail, Colorado in 1964. Slim Aarons/Getty Images
A group of skiers show off their outfits in 1977.Slim Aarons/Hulton Archive/Getty Images
But après ski style really hit its stride in the '70s when people embraced technicolor hues, Moon Boots, and fleece fabric (for more effective layering). Interestingly enough, during this decade Canadian brands such as Cougar, Kamik, Sorel, and Canada Goose began to integrate ski style into everyday streetwear. For example, one would see quilted nylon ski jackets made with zip-off sleeves that then turned into vests for an off-the-slopes look.
'80s To '90s
The invention of Gore-Tex (a highly durable, breathable, waterproof and windproof fabric) shifted the fashion landscape of ski wear in the '80s. Pieces were now lightweight and super practical. Skiers wore fluorescent neon snowsuits, dazzling printed one pieces, and jackets paired with Levi's and gaiters. (For a quick, visual representation of what mountain style looked like around this time, watch Wham!'s Last Christmas music video or check out Princess Diana's ski looks during this decade.)
The trend of candy-colored suits continued well into the '90s as women would often sport a colorful coordinated headband with their ensembles too. Mountain style also started taking their cues from streetwear fashion as brands like The North Face, Columbia, and Patagonia created collections that merged both areas. Additionally, during the '90s, snowboarding culture gained popularity, so the looks on the slopes were more relaxed and loose to allow for better movement.
Princess Diana skis in Switzerland in 1986.Tim Graham Photo Library via Getty Images
Princess Diana & Prince Harry in Austria in 1992.Tim Graham Photo Library via Getty Images
2000s To 2010
In the early aughts, a baggy fit — in line with the snowboarder aesthetic — was in. Alpine sports enthusiasts sported quilted parkas with faux fur hoods while neon hues were swapped for pastel blues, white, and beige. Heading into 2010, metallic puffer jackets and reflective sunglasses were embraced on the slopes.
This winter lifestyle became a major selling category for both brands and retailers. Luxury houses like Chanel and Fendi, for example, release annual ski capsule collections for their resort-bound customers, and the Alpine aesthetic continues to be re-visited every few seasons. (You may recall in 2019, for Karl Lagerfeld's final collection for Chanel, the historic Grand Palais was transformed into a winter wonderland complete with a ski lodge and fake snow.)
It would be remiss, too, to discuss mountain style without mentioning the impact social media has had in promoting the Alpine lifestyle during the 2010s. (Instagram was created in 2010 and TikTok in 2016.) Brands like Perfect Moment, which has skyrocketed in popularity over the years, have leaned into this by creating ski wear that blends technical design with a more on-trend fashion focus.
"[At Perfect Moment, our] customers are looking for assurance that they'll be warm and comfortable in wet and cold conditions, but are asking to look stylish, too," says Jane Gottschalk, the label's co-founder and creative director. "People want to look good on their holidays and because the technology of [ski wear] fabrics have improved vastly [over the years], this allows for a more fashionable focus [in design], too." Gottschalk specifically points out the label's slim fitting pants, which feature four-way stretch fabric and a waterproof exterior, as a piece that can be worn with jumpers and boots for an après ski look or as leggings on a regular weekend.
2020 & Beyond
These days, ski wear and après ski style continue to draw from the past while remixing it all for an ever-growing TikTok- and Instagram-first generation of shoppers. "We are seeing a return to classic Americana and people wanting [that look]," says Jason Lyon, co-founder of Morphew, a vintage retailer. "We can't ever keep vintage Ralph Lauren cozy sweaters in stock. The color palette is cozy beige, white, and jewel tones. [Shoppers are] going more for that après ski [meets] cozy in the chalet [vibes], and [they're] drinking, having a fun party. [I see] classic Americana with a nod to '80s glam, like shoulder pads and sequins."
In addition, the line between what's appropriate on the slopes and the trends in everyday wear continues to be blurred. "[MatchesFashion] customers are looking for [ski] pieces that have a fashion point of view, but are also made of the highest quality with all of the performance features that they could want and need," says the site's senior buyer, Jenni Thompson. Ashman adds: "What's great about Bogner is that we [have continuously offered après ski pieces like reversible vests] that people can wear on the slopes, but then when they go home, they can still wear those same pieces and feel really good in it."
Take Gucci, too, which announced its Vault Altitude collection on Jan. 5, offering pieces that blend the utilitarian aesthetic of ski wear with urban street style. The house tapped eight brands such as Moon Boot, Yniq, and The Elder Statesman to create a mix of accessories and ready-to-wear meant to be worn from the snowy peaks of Aspen to the streets of the Big Apple. If this isn't peak Alpine chic, what is?