These Will Be Spring's Biggest Fashion Trends, According To Instagram
@maria_bernad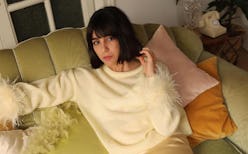 I have a confession to make: I spend at least 20 hours a week on Instagram. While some of my activity can be chalked up to personal usage, the majority is work-related. As The Zoe Report's Social Media Editor, I'm responsible for managing our Instagram account. In part, my job requires identifying emerging trends on the platform. I've come to believe that while fashion trends begin on the runway and on the street, Instagram is where they can grow and gain momentum. And right now is exactly when I'm keeping a sharp eye out for Spring/Summer 2019 fashion trends on Instagram that are poised to break out. Since the app is the creative hub where fashion insiders ultimately give a trend (often through a single piece), their stamp of approval — and their followers undoubtedly take notice — don't doubt that there's plenty to be looking out for.
Remember the leopard Realisation Par skirt that everyone bought (and Instagrammed themselves wearing) last summer? That very skirt was partially responsible for reinvigorating the animal print trend that dominated the later half of 2018. This winter, Saks Potts' furry coats, and pops of neon green have been key elements of many of my favorite OOTDs. So, are you yearning to find out which trends everyone will be wearing in two months from now? Below, I'm outlining which trends are poised to break out, according to Instagram and its mysterious algorithm. Pearl accessories and more of that slime green are just a few of the Spring 2019 fashion trends that are dominating Instagram. Scroll on, and oh, and while you're at it — don't forget to follow us @thezoereport.
Sport Sandals
Sport sandals were all over the Spring/Summer 2019 runways, and though it's still chilly, they've already popped up in spades amongst the fashion crowd. Pair them with a dress or cropped denim, and layer socks underneath for some added dimension.
Pearl Accessories
From hair clips to detailed earrings, pearl accessories are only gaining momentum as we look towards spring. With a statement earring or a playful clip, you can instantly make any outfit more polished.
Belted Blazers
Belted blazers offer a fresh update on a classic silhouette, and are easily worked into any wardrobe. Pair them with your favorite trousers for the office, or offset the cinched waist with a pair of baggy jeans for a more casual look.
Slime Green
Despite any naysayers, slime green is here to stay. Not ready to dive head first into this trend? Start out with an accessory — the by Far bag is a fashion favorite, (and for a good reason).
Feathery Details
Not only are feathers inherently fun, but they offer an added dose of texture. Try a fun top for a night out, or for something easy, try a bag with feather details.
Colorful Opaque Tights
Tights are great for cold spring days when it's not quite warm enough to break out your favorite dress. Pair them with heels — or (dare I say) sneakers, and instantly liven up your look with a playful hue.