All Signs Point To These On-The-Rise Styles Taking 2024 By Storm
Take a look into our chic crystal ball.
Christian Vierig/Getty Images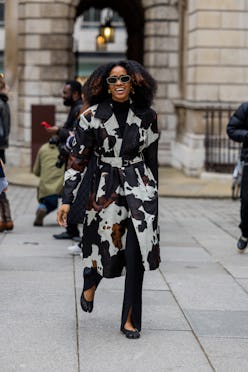 We may receive a portion of sales if you purchase a product through a link in this article.
To try and encapsulate a year like 2023 is ambitious — from a fashion perspective, we saw an explosion of creativity: film releases with wonderful costume design, buzzy collaborations, new label launches, a slew of TikTok-friendly "aesthetics" embraced by celebrities and personal style influencers alike. But while there's much more to unpack and reminiscence about, we're also looking ahead to what the new year may bring; not just for our wardrobes, but our feelings toward the style scene altogether. The 2024 fashion trends experts predict will rise in popularity are in many ways a continuation of what's already buzzy right now, just taken up a notch.
Of course, there's no certainty surrounding what the next 12 months will hold. But in an attempt to temperature check the current zeitgeist, TZR tapped experts for their take on what we can expect from 2024. The result? An intriguing mashup of very specific looks as well as broader industry themes. Continue ahead for a sneak peek at what's to come. And should any of these trends resonate with your own sensibilities, why wait? Shop your favorites right now from brands already leading the way.
Essential Ideas
There's no doubt that maximalism has experienced a sharp uptick in popularity. Still, there's also been an equal emphasis on classic pieces with interesting updates (think: Toteme's ever-popular jacket with a built-in scarf). "Minimalism will continue as the leading aesthetic heading into 2024 but we will see an evolution from the streamlined pieces of season's past towards true classics with [an update]," Nordstrom Editorial and Content Director Kate Bellman says. She points to manipulated fabric and innovative treatments as details that will breathe new life into these kinds of essentials.
Shop Le Point Founder Pauline Montupet agrees. "I feel like there has been a return to classic pieces and that will keep on going," she says. "I'm not saying that the statement piece is out, but overall I feel like customers are being more thoughtful about what they bring into their wardrobes, and in turn designers are designing with that in mind."
Soft Touch
A simple handbag trend may, at first thought, not seem like much to write home about — really, there are just so many. But a carryall shape can also serve as a reflection of broader shifts; it's what we carry all of our things in, after all. Tiny party purses? They might signal an inclination to dress up and hit the town. Oversized, slouchy satchels? Perhaps a move toward practical, effortless attitudes, or even a nod to travel-ready wardrobes.
"For 2024, I predict we're going to see a lot more large, unstructured totes becoming our go-to for travel as well as everyday bags," Vivrelle Founder Blake Geffen says. Bellman interprets this trend as an overall "softening" of shapes. "Classic handbag silhouettes such as the oversized shoulder bag and classic tote see a softening in shape versus more structured, like we've seen in the past seasons."
Hey, Preppy
Blame it on Miuccia, but a co-ed cool academic vibe is still very much in session. "In 2024 a new approach to preppy style will rise in popularity," The RealReal Senior Fashion Lead Noelle Sciacca says. "Key elements like polo shirts, rugby stripes, and tailored shorts will once again become essentials, but now styled in a casual, laid-back way that is more collegiate off-duty than prep school princess." Sciacca points to both the Dries Van Noten and Miu Miu Spring 2024 shows as a reflection of this "not-so-buttoned up academic style."
Sole Focus
Much like how handbag trends can symbolize a cultural shift, footwear also has the potential to reflect a broader attitude — and many experts are pointing toward timeless shapes as the lasting "trend" for next year. " Classic silhouettes [will] prevail in accessories and footwear but go through a modern makeover with novel design updates," Bellman says. "In footwear, kitten heels, soft flats, and the classic thong sandal all get a [revamp] with some level of manipulated embellishment or material interest."
And for those who are back in the office, there will be more options to choose from than the standard fare. "Sleek pointy mules — these have been gaining momentum this year — with Prada leading the charge. I think this trend will only continue in 2024," Montupet says.
Selfmade Style
Of course, personal style never fully went away. But after a few years of viral trends that encourage everyone to dress similarly, there's a sense that fashion-lovers are ready to break the mold. "For 2024 I think we'll see a broadening sense of creative discovery in fashion encouraging a heightened focus on personal style," Bellman says. For some, leaning into self expression might manifest in a pared back, streamlined wardrobe. For others? It'll be something a bit livelier. "After over a year of minimal style and quiet luxury saturating our closets, statement dressing is back for 2024," Sciacca says, adding that "self expression through fashion will have an official resurgence as we lean into bold embellishments like 3-D floral appliqués as seen at Loewe's Spring/Summer 2024 show, fringe at Gucci, and playful silhouettes as seen on the Bottega Veneta runway."
Belt Brigade
On the granular level, accenting one's waist is a micro trend that feels both refreshing and rooted in timelessness. "Belts have slowly been creeping back into women's wardrobes," Sciacca says. "I predict they'll have an even larger role in dressing next year, in ways that are both eye-catching and understated."
Opposites Attract
This past year was when the 'wrong shoe theory' hit its stride, which very well may have implications for fashion trends trickling into the upcoming 12 months. "Dressing in 2024 will be about the thoughtful mix of seemingly opposing ideas, pairing the practical with the impractical," Sciacca says. She offers the example of an oversized jacket with itty bitty hot pants, or a '90s- esque baby doll T-shirt with 1950s-inspired pedal pushers. "In the new year, experiment with style and lean into fashion's playful side," she suggests.
Primary Sources
If there was one color that defined 2023 it was inarguably pink. Barbiecore permeated the zeitgeist with the release of the Barbie film, but for 2024, palettes will likely pivot. "Pops of primary colors [are about to have a moment]," Montupet predicts. "Red has been huge for fall, so that will continue, but we will also see [bursts] of sunny yellow and cobalt blue."
Isn't It Romantic?
At its core, fashion is a form of whimsical escapism, which is why it's no surprise that romantic themes tend to hold a permanent spot in the trend cycle. "We anticipate a softening in how people are dressing in 2024. Whether it's relaxed tailoring or sheer romantic dresses, there's a sense of levity and an ethereal-like approach to getting dressed in the new year," Bellman says.