Soft & Unstructured Handbags Have Never Felt So Chic
Welcome to your slouchy purse era.
Jeremy Moeller/Getty Images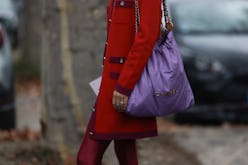 We may receive a portion of sales if you purchase a product through a link in this article.
If a prim and proper lady purse — all sharp corners and neat angles — is the accessory equivalent of a well-heeled woman with VIP lunch plans, then this season's must-have slouchy handbag would qualify as her charmingly wayward little sister. The soft and rounded style comes in all manner of shapes and sizes but always feels unbothered and cool, a piece you can leave by the door and grab without thinking; you just know it will work with whatever you own. It's simple, but also supremely special, something you want to spend inordinate amounts of time with.
And you will, especially when considering the wardrobe possibilities the relaxed, slightly oversized silhouette offers. For instance, check out the luxe hobo-shaped options on Bottega Veneta's Spring 2024 runway, where a sense of unbothered ease permeated the collection, or the squishy pillow-like carryalls spotted over at COS, all paired with city-wise basics. Then, of course, there's Khaite, who's had a hit on their hands ever since the 2019 launch of its cult favorite Sara tote, which completely collapses on itself unless you stuff it to the gills for a long day out (which with that kind of real estate to work with, why wouldn't you?).
Below, shop these unstructured handbags and more for the season ahead.