An Expert Predicts The Cost Of Zoë Kravitz's Engagement Ring
James Devaney/Getty Images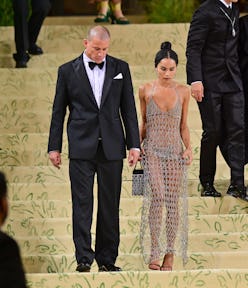 We may receive a portion of sales if you purchase a product through a link in this article.
Halloween weekend in Hollywood is always full of surprises. Leading up to the festivities, it's a fun little game predicting who will knock it out of the park with their look and where all the best celebrity parties will take place. This year, though, Zoë Kravitz and Channing Tatum undoubtedly blew everyone away with news that, believe it or not, had nothing to do with the spooky holiday. In case you missed it, eagle-eyed fans spotted Kravitz oh-so subtly debuting her lavish engagement ring alongside a wacky costume.
On Oct. 28, the power couple, who have been dating for the past two years, were hand-in-hand heading into Kendall Jenner's star-packed Halloween bash in Los Angeles. They were dressed as Rosemary Woodhouse and her satanic baby from the 1968 horror film Rosemary's Baby, complete with a baby bonnet and a fake butcher's knife. Of course, though, it was the stunning diamond ring on that finger that really stole the show.
"The engagement ring appears to be a rare elongated cushion-cut diamond with a blackened gold band that surrounds the seven-carat diamond — adding a subtle gothic touch that we have come to expect from Kravitz's red carpet rotation over the years," Laura Taylor, a jeweler specializing in engagement and wedding rings at Lorel Diamonds, tells TZR. "As for the ring's value, I would estimate it to be upwards of $475,000, possibly reaching $550,000 depending on the quality of the diamond," she adds.
According to Taylor, Kravitz's cushion-cut diamond, one of the oldest diamond cuts ever, was a popular choice during the "Golden Age of Hollywood" among stars like Grace Kelly and Elizabeth Taylor. The actor modernized the classic shape by elongating the silhouette and adding sparkle. All in all, the glamorous ring perfectly marries (pun intended) Kravitz's penchant for contemporary designs and vintage accents — think her beloved Audrey Hepburn-looking little black dresses.
If you love Kravitz's traditional ring as much as we do, shop similar styles below. Halloween costumes sold separately.