Zendaya's Unexpected Nail Color Is Only The Second Most-Interesting Thing About Her Selfie
She's setting the record straight.
@zendaya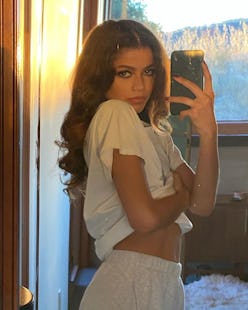 One thing about Zendaya — she'll never let her fans twist for too long, suspended in speculation. She'll happily hop online to dispel rumors, correct the record, hype up a co-worker, or confirm a work project with all the charming candor of a real-life friend. So when the Challengers star sent her 185 million Instagram followers into a legitimate tailspin following a casual photo upload, it didn't take long for her to clear up any confusion. It all started when she posted a full-body, mirror-style selfie taken in a car window reflection. Zendaya's shimmery pink nail polish'd hands hold her phone up, which gives a very clear view at the large pearl ring affixed to that finger.
If your mind went right to engagement, you're not the only one, so much so that Zendaya immediately recorded an explanatory video — complete with what sounds like Tom Holland's giggles in the background — giving just the facts. She was just trying to show off her hat, she explained, adding, "You think that's how I would drop the news?!" After briefly taking the rumor-igniting selfie down, she popped it right back up albeit with a new caption telling her stans to chill out a little. And with that clarification out of the way, fans are free to focus on what really matters: that incredible, hint-of-sparkle manicure.
A happy-go-lucky shade of cotton candy pink, it's a major yet refreshing departure from the deep, moody fall manicures her celebrity peers are all trying right now. As usual, Zendaya kept the polish concentrated on what appears to be her natural nail beds, which extend just past her fingertips and are all immaculately groomed into softly squared-off shapes.
More often than not, Zendaya gets her manicures courtesy of celebrity nail artist Lisa Kon, who also does her boyfriend's. Z's latest look hasn't made it to the grid yet, but Kon did upload a shot of Holland's freshly-buffed nails just this week — perhaps the pair came in for a his-and-hers moment?
Zendaya has so many upcoming projects and professional commitments that it sounds like wedding bells are still a ways off — but the couple that goes in for luxury manicures together is a couple that stays together.