We Already Want Everything Zendaya Is Wearing In The 'Challengers' Trailer
STEFANO RELLANDINI/AFP via Getty Images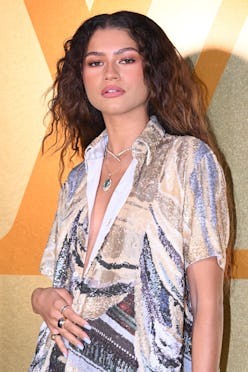 We may receive a portion of sales if you purchase a product through a link in this article.
By now, you've likely seen, or at least heard about, the trailer for Zendaya's new movie Challengers, which comes out this September. The film follows the lives of three teenage tennis players into adulthood as they compete to be the world-famous Grand Slam winner. It's a plot filled with drama, romance — Zendaya's character Tashi is caught in a love triangle between Patrick (Josh O'Connor) and Art (Mike Faist) — and tons of sporty attire. The teaser offers several glimpses of Tashi's wardrobe, which seems to center around crisp tennis whites, party dresses, and slinky lingerie. There's also some not-so-subtle adidas brand mentions, which the protagonist wears throughout the movie.
It's no accident the fashion in the film already resonates with viewers: Director Luca Guadagnino tapped designer Jonathan Anderson — the creative mastermind behind his eponymous label and Loewe — to create the costumes, ensuring there will be plenty of stylish on-screen outfits. Back in March 2022, Anderson announced the duo's collaboration on his Instagram account; then, in September, he hinted at the partnership during Loewe's Spring/Summer 2023 show by walking the runway in a long-sleeve tee that said "Challengers" alongside a print of tennis racquets. Of course, this sneaky Easter egg might've gone unnoticed at the time.
Guadagnino has a long history of working with talented designers for his films. He previously teamed up with Raf Simons on projects like I Am Love and A Bigger Splash, where critics praised the costuming in both movies. These positive receptions bode well for Guadagnino, as Anderson is yet another force in fashion to work with.
So far it seems the director made a wise choice: several of Zendaya's looks stand out from the trailer as worth trying. Ahead, we've shopped out the best ones to hold you over until there's a whole movie of fashion inspiration to pull from.
Party Attire
In the trailer, we see clips of the main characters hanging out together at what appears to be a party. Tashi wears a strapless blue mini with a flared skirt along with dainty gold jewelry that clearly catches both her paramours' interest.
Tennis Outfits
Since the movie is about tennis, you can expect a variety of sporty outfits in the film. Tashi wears a mix of athletic tank and shorts along with cute court-ready dresses. When on-set photos leaked online earlier this year, Zendaya's fans became obsessed with the latter look — long live tenniscore!
Jewelry Moments
Don't sleep on all the jewelry details in the movie! Tashi appears to wear a medley of styles, from the iconic Cartier Love bracelet to a more whimsical beaded piece. (We're assuming this more playful and casual piece is a memento from one of her love interests in the film.)
Off-Duty Looks
Tashi's off-duty style runs the gamut, from laid-back athleisure to more buttoned-up dresses. A few memorable looks so far include this pink hoodie/micro shorts combo — film buffs, this would be a good Halloween costume — and her champagne-colored silk nightie.