Zendaya's Gold Ring Is A Sweet Nod To Her Beau Tom Holland
David M. Benett/Dave Benett/WireImage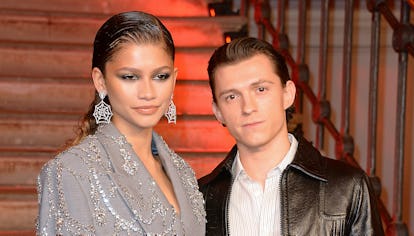 We may receive a portion of sales if you purchase a product through a link in this article.
Zendaya and Tom Holland are experts at keeping their relationship away from the public eye. You won't find them at paparazzi-infested hotspots like Nobu Malibu, nor will you see them post cutesy couple photos on their social media accounts. However, Holland will leave emojis on Zendaya's outfit pics. Even though they're an elusive Hollywood couple in public, make no mistake, the two clearly adore each other in private. How do we know this? Just check out Zendaya's gold signet ring, which is engraved with her boyfriend's initials T and H.
She wore the accessory to a nail appointment and fans were able to spot the sweet ring thanks to a video posted by her manicurist, who goes by the Instagram handle @marinadobyk.nails. In the short clip, you can see that Zendaya went for a milky-pink polish look and on one of her fingers, she wears the aforementioned signet ring that gives a nod to her beau. The letters are written in a cursive font and it seems like she wears the ring a lot, based on how lived-in the piece looks. Upon seeing the video, Instagram users immediately left comments like "And the ring is cute, too!!" though it appears Zendaya has yet to respond to any of these remarks about her jewelry.
It's not unusual for couples to wear personalized baubles that pay tribute to their significant other. After all, the item often serves as a sweet and sentimental gesture. In the past, celebrities like Meghan Markle made headlines for wearing her and Prince Harry's first name initials on a necklace while Jennifer Lopez owns a jewelry piece that says "Ben" on it. Thus, Zendaya seems to be in good company with her own "TH" signet ring.
The actress and Holland have been dating for several years now and lest you need a reminder of how adorable they are, check out the red carpet photos ahead. Back in December 2021, the duo made numerous appearances together while promoting their film Spider-Man: No Way Home. In one image, Zendaya and Holland were caught smiling at each other. At the other red carpet event, you'll recall Holland had stepped in front of his girlfriend as she adjusted her dress in order to give her privacy from the cameras. And let's just say, this sweet moment sent the internet into overdrive.
Emma McIntyre/Getty Images
Now that you've received the full run-down of Zendaya and Holland as a couple, shop similar signet rings to her style ahead. These jewelry options will allow you to express your love for that special someone.