This May Be The Most Relatable Show Ever, Here's Why
Courtesy of Amazon Studios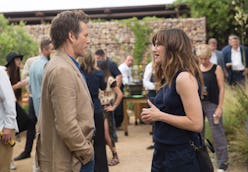 I Love Dick is unlike anything you'll see on television. It's edgy, offbeat, funny and at times cringe-inducing (plus it'll make you have feelings for Kevin Bacon you never knew you could have). Even the name rebels against the norm, unapologetically graphic as it is. And that attitude permeates every aspect of the show, from the way it portrays sexuality to the actions of Chris, the main character.
We sat down with Jill Soloway, who co-created the show with playwright Sarah Gubbins based on Chris Kraus' novel of the same name. "I love the way [the book] conflates sexual awakening and sexual desire with artistic awakening and artist desire," she says, "That feeling you have when you're obsessed with a project is the same feeling you have when you're falling in love." Looking back on her own life, Jill says there were many times in which her creative energy was drained by romantic entanglements. Especially by people who—like Dick—crumble the second you get close to them.
"It's like that for a lot of women because patriarchy forces us into this place where we have to attract, we have to perform for attention to earn sexual satisfaction," Jill says. "Our desire is only seen in how it connects to the male gaze. We only get to have as much great sex as we are thin or hot or beautiful or blonde or whatever it is culture teaches us makes us worthy of sexual satisfaction. It's so stifling to us as humans, to be the object and not be able to own our desire."
None of the nudity in I Love Dick feels gratuitous—in fact it drives Chris' story. Women are placed as the subject of sexual desire, not the object. Actress Kathryn Hahn, who plays Chris, tells us, "When you feel like your naked body is looked at with eyes that are empathetic and without judgment, and know that it's not a tool for anything but is in fact an engine for the story, it's a different feeling. Especially for someone over 40 years old. For anybody who identifies as 'the other,' to be the subject of their own narrative, it's crazy exciting."
And, lest you think all this "topple the patriarchy" business makes I Love Dick feel too heavy to binge-watch, the show also happens to be hilarious.
"It's going to be shown in like 250 countries," says Jill. "It's an amazing opportunity—a little feminist sleeper cell that will go into bedrooms and living rooms all over the planet."
Season 1 of I Love Dick is available now on Amazon.