A Downton Abbey Movie Is Really Happening, And We Can Hardly Contain Ourselves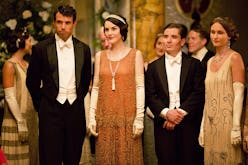 If you don't like Downton Abbey, you are in the minority (literally—the Associated Press reports that it's one of the most popular shows in the entire world). Alas, all good—nay, great—things must eventually come to an end, and a little less than two years ago the Crawleys left our TV screens…but not our hearts. And now, the day we've been anxiously awaiting is nigh: Michael Edelstein, president of NBCUniversal International Studios, told the AP that a DA movie is indeed in the works. In fact, they plan to start production in 2018 and hope to get 20 cast members on board from the show.
(That sound you hear is us totally freaking out.)
Michael spilled these metaphorical beans on the red carpet for Downton Abbey: The Exhibition, which features never-before-seen-footage from the show along with other cool things like costumes. "We are working on getting the script right and then we've got to figure out how to get the [cast] together. Because as you know, people go on and do other things. But we're hopeful to make a movie sometime next year," he said.
But in a weird twist, cast members at that very event seemed confused. "Well, tell my agent, because we're still waiting to know. We're hoping that will happen soon," said Laura Carmichael aka Lady Edith Crawley.
Figure it out, NBC. K, thanks, bye.