Guess Who's Playing Donatella Versace In The Latest American Crime Story?
Darren Gerrish/WireImage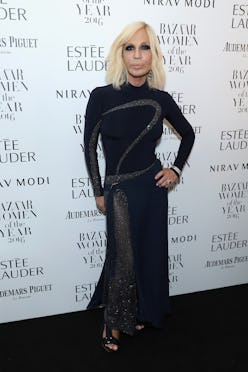 To be fair, there's only one Donatella Versace, and while many have attempted to imitate her (yes, Maya Rudolph's parodies are always gold), finding someone to depict the iconic blonde designer with accuracy beyond just emulating her signature smokey eye and ultra bronzed skin is quite a challenge. That is, if it wasn't for Lady Gaga's existence. When it came to casting Ryan Murphy's upcoming American Crime Story, which will focus on the murder of Donatella's brother (and the label's former designer) Gianni, the "Perfect Illusion" singer was a natural choice. Not only has she won a Golden Globe for the director's American Horror Story: Hotel series, but Gaga also channelled her friend Donatella in a campagin for Versace back in 2014. Mind you, Murphy has yet to confirm the casting, playing coy when it was recently suggested she was a shoe-in at a panel discussion, but trusted sources are saying the rumor is totally legit. And besides, who else could rock that plantium wig with such ease and familiarity? We'll be curious to tune in.
Photos via Getty Images