'The White Lotus' Season 3 Is Coming: Here's What We Know So Far
Fabio Lovino/HBO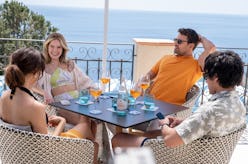 Tuning into HBO's critically acclaimed series The White Lotus can feel akin to being on a never-ending luxury vacation. For Season 1, creator Mike White brought fans along for a memorable — and chaotic — excursion to the Four Seasons Maui. And in Season 2, viewers jetted to the breathtaking San Domenico Palace, a Four Seasons hotel in Sicily, for more gasp-worthy drama. Now, you'll want to refresh your swimsuit collection because The White Lotus Season 3 is set to take place in Thailand, according to Deadline. Yes, the award-winning anthology show is renewed for another season — here's everything we know so far.
First off, while it's yet to be announced where exactly the third season will be shooting in the Southeast Asian country, Variety predicts it may be at another Four Seasons Hotel, which are placed in the city of Bangkok, the rice fields of Chiang Mai, on the island of Koh Samui, and the forests of northern Thailand, bordering Myanmar and Laos. Moreover, Variety notes production hasn't started, as White is currently staking out potential locations (fingers crossed it'll be soon!).
If you watched the rollercoaster ride that was the Season 2 finale, you know, unfortunately, Tanya McQuoid, played by Jennifer Coolidge, will not be returning for Season 3 — I'll leave it at that for those who are behind on the series. But based on the past two seasons' group of actors (Sydney Sweeney! Aubrey Plaza! Haley Lu Richardson!), the newest cast won't disappoint. And who knows, maybe some of your favorite Season 2 vacationers will be back for yet another whirlwind trip in Thailand — if their last day in Sicily wasn't too traumatizing, that is.
As for the plot of this upcoming season? "The first season we highlighted money and then the second season is sex and I think the third season, it would be maybe a kind of satirical and funny look at death in Eastern religion and spirituality — it feels like it could be a rich tapestry to do another round at White Lotus," White said in a clip at the end of the Season 2 finale, according to Variety. Regardless of the storyline, it's safe to say Season 3 will deliver at-the-edge-of-your-seat scenes (not to mention, laugh-out-loud memes).
Until then, make sure to bookmark this post, as we'll continue to update it with more The White Lotus Season 3 must-know deets.