Tilda Swinton's New Sulwhasoo Campaign Is Off To A Chic Start
Courtesy of Sulwhasoo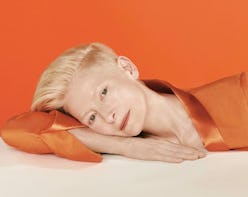 Brand ambassador pairings are like a marriage. There needs to be a healthy amount of personality overlap to make sure both parties are aligned in audience and attitude, but with enough unexpected elements to really generate excitement among new and longtime fans alike. Tilda Swinton's just-announced Sulwhasoo partnership manages to tick all the boxes (and then some) for a seriously chic new campaign that highlights exactly why the actor and brand are synergetic kismet.
Swinton's global ambassadorship was only just revealed on Sulwhasoo's Instagram page, but a flood of approving comments have already poured in. Focused on a fresh brand mission of "building a world of beauty powered by art and heritage," a press release details, Swinton's signature radiant skin and genre-bending filmography fit right in. As it happens, though, she wasn't simply tapped to be another beautiful face in a series of commercials — Swinton's role as a brand storyteller immerses the actor into Sulwhasoo's rich history, beginning with an ingredient-focused video shot in the hazily sunlit House of Sulwhasoo Bukchon in Seoul, South Korea. Part of the brand's new Sulwhasoo Rebloom campaign, the short film is just the start of a fresh journey into heritage, sourcing, inspiration, and global impact.
In the new video, titled "I Am Ginseng," Swinton's slow, distinct Scottish lilt explores the Sulwhasoo ingredient that started it all. As the first to incorporate the traditional Asian herb into skin care products, ginseng is more than a hero ingredient — it's the heartbeat of the entire brand.
K-pop idol and global superstar Rosé of BLACKPINK serves as Sulwhasoo's other worldwide ambassador, appearing in an ethereal video clip reciting the brand name's English translation — sul, wha, and soo are snow, flower, and beauty respectively.
With both Rosé and Swinton longtime fans of the brand themselves, the partnership enjoys an easy, natural rhythm bound to resonate with Sulwhasoo's global audience. "I think spirit and heritage are really beyond valuable," Swinton told the brand on Instagram. "There's really a reason to focus on things that don't change because they never will."