Whitney Peak's Dreamy New Gig Brings An Iconic Fragrance To Life
Courtesy of Chanel Beauty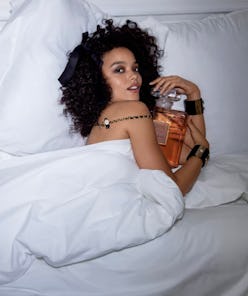 We may receive a portion of sales if you purchase a product through a link in this article.
Great things come in twos, and that applies to Chanel Beauty announcements. The brand's latest innovation is setting the tone for spring with revitalizing updates to an all-time classic, Chanel's Coco Mademoiselle perfume. Since its original debut in 2001, the fragrance has drawn crowds with a youthful, femme scent profile, but now, more than two decades later, it's getting a new life — and a new face. Whitney Peak, Chanel Coco Mademoiselle's just-announced ambassador, can add representing the fragrance to her ever-growing list of credits. And because the brand always has to up the ante, Peak's first campaign went live simultaneously with a new Mademoiselle formulation: hair perfume. Best known for her star-making turn as the resident fresh-faced ingenue on HBO Max's Gossip Girl, Peak's distinctly elegant aesthetic is right at home with Chanel.
While both new Mademoiselle elements are undoubtedly exciting, Peak joining the Chanel Beauty family feels especially significant and — as the first-ever Black woman to represent the scent — a long time coming. Peak's been a U.S. ambassador for the larger fashion house since 2021, and even served as a muse for its 2022 handbag campaign. This latest step feels like an entirely natural one for the 20-year-old Peak.
"I've gotten to build a relationship with Coco Mademoiselle that overlaps any experience I've ever had with the fragrance before," Peak explains in a press release. "I wear it and I'm like, 'Yes, this is me.'" She shares that fragrance in general helps her feel like the most complete, put-together version of herself, layering oils and perfume over her body and in her hair and clothes, too.
Spritzing scents through the hair is a common enough practice, but specially-designed hair perfumes — like the Mademoiselle formulation Chanel just released — are much less drying. Travel-safe, so compact, and lighter in scent and feel than the full-bore eau de parfum, the Coco Mademoiselle Fresh Hair Mist sends notes of orange, rose, and patchouli through the hair with every hair toss.
While the world waits for Peak's full Chanel campaign to launch in March, you can shop the new hair perfume in the meantime.