Sulwhasoo's First Care Activating Serum Just Keeps Getting Better
The iconic face serum has stayed fresh, potent, and highly effective over the years.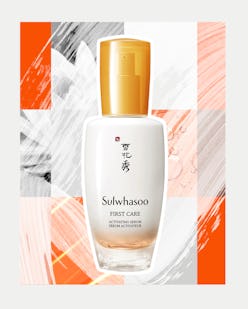 The Climb is our series that highlights a top-selling item from brands both established and buzz-worthy. In these monthly features, you'll hear straight from the brands about the fascinating history of how one extra-special piece exceeded expectations and became a forever product. This month's focus is on the best-selling Sulwhasoo First Care Activating Serum. Find the story behind the cult-favorite product below.
The beauty industry is known for being competitive. There are so many lines, formulas, and promises to choose from that unless a given product can really deliver, it'll end up in the collecting dust on the shelf, never to be heard from — or written about — ever again.
It's this somewhat ruthless approach that separates the just-okay from the really fantastic and highly effective, like the serum that's so good that your friends can rattle its name off, the one you snap up anytime it's on sale, the kind for which the term "cult-favorite" isn't hyperbolic. It actually has to work. And that's what keeps Sulwhasoo's First Care Activating Serum in the game, proving it to be a bona fide classic.
Its first iteration came around in 1997, back when Diddy was known as Puff Daddy and a full seven years before Facebook was born. It was a veritable hit in its native South Korea, and in the years to come — which brought the Korean beauty trend stateside and established "essence" as a standalone skin-care category — the First Care Activating Serum has since grown into a global bestseller. And Sulwhasoo, a brand that goes well beyond the aforementioned Korean beauty fad, has become seen as a true expert in Korean skin care, not to mention a leading selective skin-care brand in Korea.
Case in point: One bottle is sold every 7 seconds globally*. Part of the reason for its appeal? It's kept up with the constant innovation happening in the skin-care realm. With decades of research behind it, the unique formula enjoys regular updates to maximize the efficacy of and complement its proprietary complex.
*Based on aggregated global unit sales data excluding duty free stores from 2020-2021
In fact, as of 2021, it's now in its fifth iteration. Rather than calling it a day, Sulwhasoo can't help but apply the latest and greatest learnings to the formula — and that's clear in its results. Over the years, the brand has souped-up the formula with more advanced bio-science, and a master blend of five herbs called the JAUM Activator™ , which hydrate, nourish, visibly firm, and most importantly help boost the effects of products applied afterwards.
Let's back up a bit, though: For the uninitiated, First Care Activating Serum is a prep serum. While it's called a serum — since it features highly concentrated key ingredients typically found in a face serum — it also works like an essence, which dampens skin and, as with a sponge, helps allow it to better absorb any products that follow. Like an essence, it should go on directly after cleansing, morning and night; simply pat it into skin with your hands before moving on to serum and moisturizer.
It helps amplify the benefits of everything else that follows in one's skin-care routine, allowing it to fits seamlessly into an existing lineup. Not only that, but it works to hydrate and brighten skin, too, delivering soft, smooth, and all-around healthier-looking skin.
Inspired by Hanbang, or traditional Korean herbal medicine, the formula pulls this off with a proprietary blend of lotus, rehmannia, peony, solomon's seal, and white lily that has the ability to brighten skin, support the skin's moisture barrier, and provide antioxidant power. You'll also find madecassoside to help soothe, as well as dwarf lilyturf and licorice root extracts to help balance skin.
The most recent version of the formula tweaks the recipe ever so slightly—and for huge results. Sulwhasoo used cutting-edge technology to mine ancient Asian literature, sifting through nearly 4000 formulas and over 1000 ingredients to determine improved proportions (what the brand calls a "golden ratio") of the herbs. That led to the creation of the JAUM Activator™, an optimized version of that staple blend.
When it comes to application, Sulwhasoo believes in making it a ritualistic experience that ignites all of your senses, especially your olfactory system. According to their "First Peace Ritual" (i.e. how the brand recommends using the serum), you should first warm two to three pumps of serum in your hands and slowly bring them up to your face so you can take in the scent. They suggest taking a deep breath and inhaling the formula's earthy scent to begin your skin-care ritual. From there, you can apply your serum in circular motions, using the palm of your hands to gently press the elixir on your cheeks, forehead, eye area, and chin until it's completely absorbed.
The end-result of all? A winning combination of hydration, brightness, radiance, visibly improved lines and wrinkles, and a firmer complexion. That puts it among the hardest workers on your top shelf — and is further proof of why it has such incredible staying power in the trend-driven, come-and-go world of beauty.