It's Been 30 Years Since The Nanny Delivered High-Fashion Moments
Fran still influences It girl wardrobes today.
CBS Photo Archive/CBS/Getty Images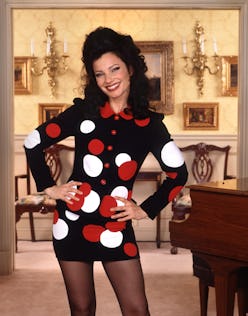 Before Carrie Bradshaw and all her Manolo Blahnik glory, there was Fran Fine. If that name rings a bell, a wise-cracking, raven haired nanny with sky high hair, an unapologetic Queens accent, and a multicolored mini dress is likely coming to mind at the moment. Yes, in the early '90s, The Nanny's "flashy girl from Flushing" (played by one Fran Drescher) strutted onto TV screens around the world, charming audiences for six seasons as she helped raise three upper East Side children — in stiletto heels and perfect hair, no less. And in celebration of the show's 30th anniversary, we'd like to pay our respects to the caretaker's iconic fashion that was truly ahead of its time.
For those unfamiliar with the show or its storytelling theme song (shame on you), here's the gist: A young woman from the Flushing neighborhood of New York, reeling from a bad breakup and unceremonious firing from her job at a bridal shop, attempts to peddle makeup in NYC's Upper East Side neighborhood when she catches the interest of wealthy widower Max Sheffield who is charmed by her "style and flair" and (naturally) hires her on the spot to be a live-in nanny for his three children. For the next six seasons, Fran Fine takes audiences on a wild ride as she navigates the rollercoaster that is child-rearing, all while decked out in vibrant, edgy fashions that are now the stuff of pop culture legend.
"Fran was sassy, spirited, outspoken, but always an underpinning of elegance, pushed right to the edge of tipping it to the edge of something not good!" said The Nanny costume designer Brenda Cooper in a recent Shondaland interview with writer Scarlett Harris. "I didn't really know I was doing it, [but Drescher said] that I had the ability to elevate the comedy with style. You're building a character. If you're doing your job right, I wanted the audience to smile the moment they saw her, before she delivered her first line."
And smile they did. But, what we're also seeing decades later after the show wrapped is a fresh interest in her iconic wardrobe, which millennial and Gen-Z audiences now understand reads as a seminal archive of some of fashion's most prolific houses. Moschino, Todd Oldham, Betsey Johnson, Versace, Anna Sui, Christian Lacroix were just a few of the brands regularly featured throughout the show's run. And while, at the time, Fran's looks were often painted as outlandish or almost comical, the fashion-forward viewers sees them as living, breathing art that drove trends still relevant today. In fact, there's even dedicated social accounts (like What Fran Wore on Instagram) that break down the nanny's outfits and the designers responsible for the look.
And if we're going to credit characters like Carrie Bradshaw for putting things like Manolo Blahnik heels, Fendi baguette bags, and flower appliqués on the map, it's only fair we give Fran her due as well. Take, for instance, the micro miniskirt, which the star championed since Season 1. Often paired with opaque hosiery ("so it didn't look slutty!" according to Cooper) the cropped bottom was a constant presence in the star's wardrobe, often worn in latex, plaid wool, or Lycra finishes.
Then there was her signature color. Baked right into the aforementioned theme song — "she's the lady in red when everybody else is wearing tan," the fiery hue was truly synonymous with Fran Fine. The actor often sported the color head to toe (decades before all the It girls did it at fashion week) by way of faux leather pant suits and skirt sets. But she didn't stop there — skim through the feed on the show's TikTok account and you'll spot everything from crimson bustier mini dresses and tartan blazers to color-blocked outfits set against equally vibrant hues like lime green or flashy prints like leopard and zebra (another styling technique that was way ahead of its time).
Fine's love for a monochrome outfit extended past her red ensembles. One of the show's most iconic moments involved an all-white look consisting of a long fuzzy coat, jean shorts, and a cropped turtleneck. After posting the look on What Fran Wore, the account was flooded with followers inquiring about the outerwear and expressing their need to recreate the combination themselves. "Fav outfit of the whole show 😍😍😍" wrote one fan while another said, "honestly I'm bringing the fur out during summer."
Indeed, one should not discount the everlasting power of Fran Fine, whose carefree and whimsical take on fashion still influences wardrobes to this very day. As it happens, that was Cooper's plan all along as she carefully curated every patterned and candy-colored outfit. "I didn't want the show to have a time stamp," Cooper said in her Shondaland interview. "I wanted to create a look that 30 years into the future, the look of that show would be as popular today as it was back then."
Mission accomplished. Happy 30th, The Nanny. You've never looked better.