Taylor Swift's Vast Lipstick Collection Goes Far Beyond Her Beloved Reds
But there's plenty of that too.
Dimitrios Kambouris/Getty Images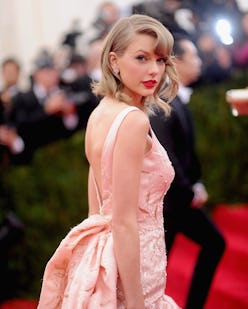 We may receive a portion of sales if you purchase a product through a link in this article.
Listen to enough Taylor Swift songs and certain motifs start to appear. There's a lot of wistful longing, storybook imagery, dresses, some self-loathing, boys in cars, and rain — usually dancing, kissing, crying, or fighting in it — but lipstick references are deserving of their own distinct category. Since she adopted it as one of her trademarks back in 2012, she's been synonymous with a singular shade of blood-red — but Swift's favorite lipstick colors range far beyond just a classic crimson. Piece together some of her best-ever looks and you might find that the "Ivy" singer can get surprisingly versatile in the makeup department, shifting between dark, dramatic tones and feather-light nudes with enviable ease.
Just as her musical genres shift with each of the star's assorted "eras", she often adopts a new corresponding look that matches sound with aesthetic — and that includes her go-to lipstick colors. The loud-and-proud pinks of the Lover album cycle, for instance, stands in sharp opposition to the dark, vampy near-blacks she favored during Reputation. Of course, that's to say nothing of her off-duty looks, which are usually just as unexpected as her eclectic wardrobe choices.
Ahead, get inspired by Swift's best and most beloved lipstick colors in recent memory, complete with exact shade matches when possible.
Hot Pink Lipstick
Throughout 2019's Lover Era, Swift was regularly seen in the punchiest shades of hot pink, both on the red carpet and in her technicolor music videos. Ultra-bright colors were the name of the game, often in creamy finishes that reflected the jewels, crystals, sequins, and sparkles that adorned her event outfits all year long.
True Red Lipstick
Above all else, it's critical that a bold red is immovable. Liquid lipsticks are the conventional choice, and Swift's preferred pick comes straight from a fellow legend. Dame Pat McGrath has been doing the singer-songwriter's makeup for a few years now using products from her best-selling line, including the LiquiLUST Matte Lipstick in shade Elson (sadly sold out at most retailers). It's rumored that Swift even wears this shade on-stage at her Eras Tour concerts.
Oxblood Red Lipstick
When Swift took a hard left turn into a darker, more industrial sound with a vampy new persona to match in 2017, she traded in her bright reds for their deeper — dare I say cooler? — sisters. On-stage at the Reputation Stadium Tour, she of course favored a liquid lipstick again for its saying power, but this time in a rich shade of oxblood.
Peachy Nude Lipstick
Swift's multi-year love affair with Mac's Retro Matte Liquid Lip Color in Back In Vogue was immortalized in her Miss Americana documentary, in which fans see the star applying it herself. All good things must come to an end, though, and the shade was eventually discontinued. However, the brand's Lady-Be-Good comes from the same line and is virtually identical — same warm, peachy-nude, same soft matte finish.
Glittery Lipstick
The deep, glittery lipstick Swift wore in the "I Don't Wanna Live Forever" music video was fans' first hint that she was headed in a darker aesthetic — but no less glamorous — direction altogether. Impossibly shimmery even in low mood lighting, McGrath confirmed on Instagram that Swift was wearing her Lust 004 Lip Kit throughout the sultry video. Though the famously glittery sets are since discontinued, fans beg McGrath to bring them back to this day.
Pink-Toned Red Lipstick
Lo and behold, Swift was kind enough to let fans in on another exact lipstick match. Absolutely instrumental to her 1989 era was this appearance at the 2014 Met Gala, which she attended with then-bestie Karlie Kloss. In a since-deleted Instagram post shared to her Instagram, Swift uploaded a photo of herself applying the soft matte crayon-style lipstick.
Rusty Orange Lipstick
Call it a micro-tweak — trading in her usual scarlets for a punchy shade of bright orange instantly summer-fied Swift's look when she hit the recording studio in June. Though more tropically-toned than her other lipsticks in rotation, note that this one is also a matte. She was spotted in the shade a few times throughout 2023, suggesting a newfound favorite.
Red-Black Lipstick
Seen here at the 2016 Met Gala, this is the darkest shade of lipstick Swift's worn in public — it was also one of her most reached-for colors well into 2017. It appears as almost a true black at first glance, but you'll quickly see the rich red just beneath, like a black cherry color.
Mod-Pink Lipstick
So many of Swift's coolest makeup moments incorporate cool tones — makes perfect sense. To complement the shimmery platinum fishnet in her 2013 Grammys gown, Swift went for icy blue eye eyeshadow and a mod-pink lip lighter and brighter than most of the shades she wore that year. It's a decidedly delicate switch-up that still resonates today.