Sydney Sweeney's Coquettish Cannes Hair & Makeup Is One Of Her Best Looks Ever
Emma McIntyre/WireImage/Getty Images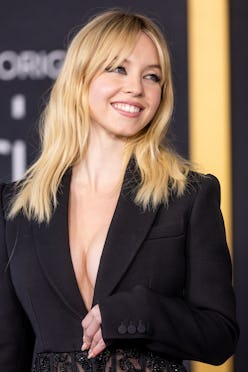 Social media would have you believe that in order to achieve true enlightenment and fulfillment in life, you must first find your "personal aesthetic." Like a signature scent, this distinct style is supposed to flatter and glorify your natural features, make getting ready easier, and help construct your personal brand. But Sydney Sweeney didn't become a generational style star by sticking exclusively with "coastal cowgirl" or "dark academia" beauty motifs. She fully rejects the idea of one specific vibe, and the red carpets she walks are all the better for it. Most recently, Sweeney's messy updo and powder-blue eyeshadow at a Miu Miu Cannes event channeled a retro, coquettish feel — but it came on the heels of a thoroughly modern look from the day before. Sweeney's ability to toggle between decades and trends has always made her one of the most exciting stars in her famous milieu, but she's in especially rare form at Cannes this year.
Sweeney's blue-on-blue Miu Miu moment immediately stoked fan excitement as photos from the event began surfacing on social media. Swaddled in a fitted, structured dress complete with puffed floral detailing, her pale blue eyeshadow is nearly an exact match to the garment. Baby blue eyeshadow is among the most instantly-recognizable beauty trends from the '60s, the vintage influence heightened by her tousled, bang-accented updo.
Created by celebrity hairstylist Glen Oropeza, who shared behind-the-scenes videos of the look, Sweeney's hair is pulled back into a high bun and topped with tons of teased, intentionally mussed curls that cascade down to blend with her bangs. As Oropeza worked on that updo, celebrity makeup artist Melissa Hernandez applied Sweeney's colorful eyeshadow.
The funnest detail, though, could be what a 180 the Miu Miu look is from the casual, highly contemporary hairstyle and outfit Sweeney wore running around Cannes the day before. With her long layers blown out into bouncy curls topped by a ball cap and paired with baggy Cotton On jeans, she's the total opposite of the retro coquette spotted at the Miu Miu party.
Sweeney contains multitudes, but a glance at her rapidly-lengthening filmography was enough to tell you that.