Sydney Sweeney Says This Cult-Favorite Lip Mask Makes All The Difference
She has it in multiple flavors.
Carlos Alvarez/Getty Images Entertainment/Getty Images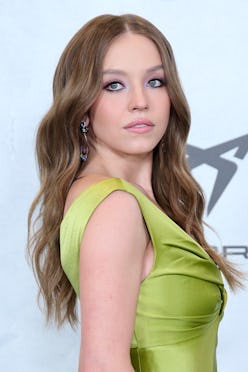 We may receive a portion of sales if you purchase a product through a link in this article.
As fascinating as experimental, exotic celebrity beauty treatments can be, it's always refreshing when a star credits their fresh-faced look to something more attainable for the mortals. Sydney Sweeney's reputation as the proverbial girl-next-door has helped her build an empire of iconic roles, but the appeal extends to her aesthetics, too — is there ever a time when her complexion looks anything less than bouncy? Fortunately, Sweeney never gatekeeps exactly which products help tease out that red carpet glow, down to the overnight favorites that help her wake up with refreshed-feeling (and refreshed-looking) skin. Sydney Sweeney credits Laneige products as the secret behind her hydrated, dewy look, highlighting two best-sellers as some of her own personal favorites in a dreamy new ad campaign for the brand.
Dressed in gauzy, rainbow-colored goddess gown, Sweeney shows off two products — the Laneige Lip Sleeping Mask and Water Sleeping Mask — that work to restore hydration levels, soften skin, and fortify the moisture barrier while she sleeps. "One of my biggest beauty rules is to continuously drink water, so the Laneige Water Sleeping Mask really speaks to me," Sweeney explains in a press release announcing the new campaign. "It's like a full glass of water for my skin. It provides long-lasting, intense hydration— no matter how much sleep I get — and I really like the lightweight gel texture which never feels heavy or sticky."
The other half of her must-have overnight heroes? An all-time favorite that you might just have on your nightstand right now. Sweeney says the Laneige Lip Sleeping Mask stays bedside everywhere she goes — which is a serious endorsement considering her bonkers travel schedule. "The technology in it gives you intense hydration while you're catching up on your beauty sleep (even though I haven't had a chance to sleep that much lately)," she shares in the release, adding that her favorite flavor is Vanilla, with Berry as a close second.
A partnership made in skin care heaven, it's safe to expect more beauty insights from Sweeney throughout 2023.