'Survival Of The Thickest' Is The Size-Inclusive Fashion Show We Need
The main character's wardrobe is one for the books.
Netflix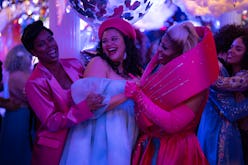 Netflix's new binge-worthy series Survival of the Thickest debuted on July 13. Loosely based on a collection of personal essays by comedian Michelle Buteau (who serves as the show's co-creator, executive producer, and star), the story centers around protagonist Mavis Beaumont, who is newly single and trying to build a career as a plus-size fashion stylist in New York City. Given the topic, getting Mavis' wardrobe right was incredibly important: Both Buteau and Survival of the Thickest costume designer Keia Bounds wanted to do justice to Mavis with a wardrobe that matched her abilities and sensibilities — all while illustrating one needn't be sample size to have incredible style.
Mavis starts the show as a photographer's girlfriend with a muted and monochrome look. "[She] takes fewer chances," Bounds explains to TZR. But after the character discovers her paramour has been cheating and ends the relationship, she begins to reimagine herself as a fashion stylist. As her business and client base grow, Mavis' sensibilities shift toward quirky and over-the-top pieces. "[It's] almost like she's trying to emulate what people think a stylist should be: puffy sleeves, going to the extreme," Bounds says. By the end of the first season, Mavis is dressing with color and glamour, coinciding with her new love life and developing career.
But finding cute clothes that fit Buteau, who is a size 18/20, proved more challenging than one may assume. According to the costume designer, many brands don't cater to plus-size women if their body shape isn't that "perfect hourglass shape" — and, as Mavis says in the show, she has a "drumstick-emoji physique: meaty on top, nubby on the bottom, very delicious." For all its progression towards inclusion with plus- and mid-size models, the fashion world remains an industry primarily focused on thinness. And Buteau was forthcoming from the beginning, says Bounds, "about the difficulty of finding things that she loves in her size."
To help Buteau feel her best and bring her alter ego Mavis' style to life in the series, Bounds relied on pulling clothes from brands like Anthropologie, Farm Rio, and Ganni to fill sizing voids, but emphasizes that "it should not still be this difficult to find quality, funky, fun, and edgy clothing for plus-size women." Additionally, the creative brought her own personal network of plus-size and size-inclusive brands to help dress all the actors, but while working on the show, she says a number of fresh brands wanted to get involved. The first season includes high-end pieces and contemporary favorites like Tanya Taylor, ELOQUII, Fe Noel, Telfar, and JW Anderson.
The costume designer also drew from Buteau's own style IRL to inform her character's wardrobe. If you've watched the comedian's stand-up specials, you'll know she has great taste in jackets and suits, and she's not afraid of color and shine. Mavis also shares some of this sartorial DNA, by way of the sharp jackets and tailored suits she wears to business meetings and even on dates.
"Michelle is fearless. She's a woman that knows her body, but also wants to try new things," says Bounds. This sartorial boldness is reflected in the series, as Mavis wears everything from a statement-making Selkie cadet jacket to an Isabel Marant plaid shirt coat to an Anthropologie leather and tulle dress — all of which were costume decisions that pushed Buteau to embrace new shapes and styles.
Bounds shares that a pivotal feel-good, fashion moment to watch out for comes in Episode 6 (spoiler alert!). In the scene, Mavis puts on a size- and body-inclusive lingerie fashion show at the behest of designer Nicole Byer (who plays herself). In it, Mavis gets in on the fun with a black and pink corset bra — a striking design that stands out even amongst lingerie models. "It was so much about body positivity in that moment," says Bounds. "Everybody was exposing everything and it was great, like: Here I am!"
But the biggest style moment for Mavis has to be a pivotal finale scene in which she hosts an inclusive prom at Brooklyn gay bar CC Bloom's, alongside the stylish drag queen Peppermint (playing herself) and other characters. Mavis wears the blue Selkie Puff Dress — the same dress she's wearing in the show's cover art and the look that's become synonymous with the series. According to Bounds, Buteau initially wasn't sure whether the dress would work for her. But it ended up being the standout, full-circle style moment that showcases Mavis' growth and confidence. It was a perfect encapsulation of the costuming process.
"On the hanger it may not have said much, but when Michelle put it on... it was magic," says Bounds.