Suki Waterhouse Subtly Hinted At Her Pregnancy In A Form-Fitting Sparkly Mini Dress
Cindy Ord/MG23/Getty Images Entertainment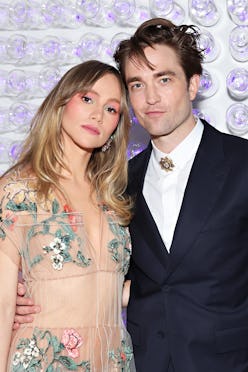 We may receive a portion of sales if you purchase a product through a link in this article.
Celebrity pregnancy announcements are typically shared in one of several ways. Sometimes, they'll reveal the news on Instagram with, say, a baby onesie (like Lindsay Lohan did earlier this year). Others, however, confirm their pregnancy on the red carpet, á la Serena Williams. Then there are stars who ignore all the grainy paparazzi photos of their growing baby bump and wait until they're ready to tell the public, which is exactly how Suki Waterhouse announced her impending arrival on Nov. 19. Yes, after weeks of speculation from fans, Waterhouse finally put the rumors to rest during her performance in Mexico City, where she wore a form-fitting sparkly mini dress.
While on stage, Waterhouse made a cheeky comment, hinting that she's expecting a child with long-time boyfriend Robert Pattinson. "I decided to wear something particularly sparkly today 'cause I thought it might distract you from something else that's going on," Waterhouse said in between songs at the Corona Capital Festival. In a video shared to TikTok, you can hear the ecstatic concertgoers immediately erupt into cheers for the mom-to-be as they realized the "something else going on" was clearly a reference to her rumored pregnancy.
Then, on Nov. 20, the "Good Looking" singer shared a carousel of photos from the show. In a mirror selfie, Waterhouse offered a sneak peek at her crystal-embellished mini dress from Giuseppe di Morabito. The rest of her separates added to the rockstar vibes, including high-shine gold boots from Givenchy and an extravagant feather jacket, which she left open during the big announcement.
Ever since the power couple was first linked back in 2018, they've kept their relationship relatively hidden from the public eye, which aligns with their subtle approach to sharing the pregnancy. As it turns out, the two have only walked the red carpet together a handful of times, the most notably being this year's Met Gala where Waterhouse wore a floral sheer dress from Fendi's Spring/Summer 2019 collection.
While we await her next maternity ensemble, emulate Waterhouse's latest look with the sparkly styles below.