The 2023 Met Gala Proved To Be The Ultimate Date Night
Talk about power couples.
Dimitrios Kambouris/Getty Images Entertainment/Getty Images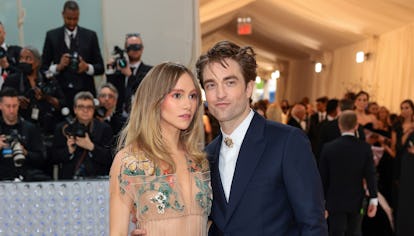 When fashion's biggest night rolls around, who's on your arm is just as important as who you're wearing. The nature of the annual Met Gala always makes for excellent duo sightings, be they married and out for a high-glamour date night, a legendary designer and their muse, or a pair of A-list besties making their way up the museum steps together. The best Met Gala 2023 duos, though, take the concept of a power couple and multiply it by a million — or $300,000, the current going-price for a table inside.
May's biggest Monday has only just begun but it's already filled with famous friends, mother-daughter duos, and the industry's most major power couples. Speaking of the latter, Gabrielle Union and husband Dwyane Wade arrived sleek as can be in coordinating all-red and all black Prada outfits, respectively.
And while significant others are all well and good at a high-profile event, it seems mommy-and-me moments really stole the show this year, with pairs like Kate and Lila Moss sending cameras into overdrive with their coordinating retro Fendi looks.
Below, explore the cutest, coolest couples of the Met Gala 2023, with new additions included as they arrive. Prepare to see double.
Gabrielle Union & Dwyane Wade
Arguably the most fashionable couple in Hollywood, Union and Wade proved their status with coordinating Prada ensembles.
Suki Waterhouse & Robert Pattinson
The under-the-radar couple made a rare (and very stylish) public appearance, with Waterhouse in Fendi and Pattinson decked out in Dior.
Keith Urban & Nicole Kidman
Urban and Kidman looked every bit the love birds they aren as the walked the iconic carpet hand in hand.
Kate Moss & Lila Moss
The supermodel mother-daughter duo went for equally ethereal Fendi ensembles.
Brittney & Cherelle Griner
The professional basketball player and her wife were all smiles as they posed side-by-side.
Brooklyn Beckham & Nicola Peltz
The couple looked every bit the joyful newlyweds.
Anna Wintour & Bill Nighy
Met Gala chairman Wintour was joined by rumored beau (and legendary actor) Nighy.
Pierce Brosnan & Keely Shaye Smith
The former James Bond walked the carpet with his longtime love of nearly 30 years.
Andy Roddick & Brooklyn Decker
The tennis star and Grace & Frankie actor stepped out for a date night in style.
More to come....