SKIMS' Latest Bra Includes Faux Nipples — And People Are Convinced It's A Joke
@kimkardashian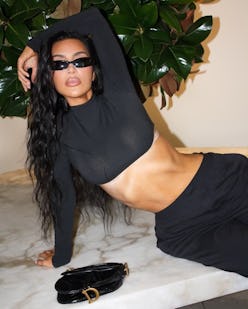 No, it's not just your imagination — the Kardashian-Jenner ladies have been in the news arguably more than ever this week. On Oct 25., the youngest of the clan, Kylie, broke the internet when she announced her upcoming fashion brand (it launches on Nov. 1!). Meanwhile, that same day, the style set had a field day over Kendall's gas station look — $10K Bottega Veneta boots to stop and fill up your car? Sure, why not. And today, all the attention is on Kim, who just introduced an innovative and, frankly, hysterical new SKIMS launch — enter the nipple bra. Launching on Oct. 31, the $62 style is exactly how it sounds: A push-up silhouette with a built-in faux nipple "for shock factor."
Kardashian shared her shapewear brand's latest product in an Instagram video, reciting a skit written by comedian Michelle Wolf, which addresses climate change. "The earth's temperature is getting hotter and hotter," the reality star said in the clip, wearing the bra, skin-tight leggings, and round glasses. She continues while typing on a computer, "Sea levels are rising. The ice sheets are shrinking. I'm no scientist, but I believe everyone can do their skill set to do their part. That's why I'm introducing a brand-new bra with a built-in nipple, so matter how hot it is, you'll always look cold. Some days are hard, but these nipples are harder. And unlike the icebergs, these aren't going anywhere."
If you could use a little laughter on this Friday afternoon, head on over to the post's comment section. "It's giving there's a 30 percent chance it's already raining," wrote beauty influencer Cat Quinn, referencing an iconic Mean Girls scene. Another user added: "For a second I thought it was an April fools but it's October lol." Nope, it's not a joke — this is a real product, and it's coming in less than a week.
What's more, fans are comparing SKIMS' latest bra to a Season 4 Sex and the City scene when Samantha Jones, played by actor Kim Cattrall, showed her friends fake silicon nipples. (Cattrall recently modeled for SKIMS — maybe the two chatted about this idea on set?) "Nipple are huge right now," she said on the show. "Open any magazine! It's not that cold. Those girls are either tweaking or they're wearing these."
SKIMS' nipple bra will be available to purchase on Oct. 31 at 9AM PT/ 12PM ET. And a portion of your money will go to a good cause: The brand is donating 10% of sales to @1percentftp, "a global network with thousands of businesses and environmental organizations working together to support people and the planet," the post's caption read. Go Kimmy, go.