Rosalía Mercifully Let Fans In On The Cool-Girl Lip Combo She's Loving This Fall
@rosalia.vt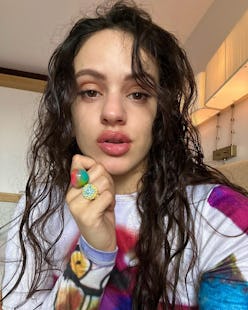 We may receive a portion of sales if you purchase a product through a link in this article.
There are cool girls, and then there's Rosalía — she's actually a cut above. When she's not making internet-shattering music or jetting around the world on glamorous trips with her best friends, you can probably find her wearing some sort of totally effortless, completely on-trend outfit, likely with incredible makeup and a sultry hairstyle to match. But part of the Motomami singer's appeal has always been her ability to keep one foot in superstardom and the other in genuine relatability — as such, her new TikTok makeup tutorial comes as no surprise. In it, Rosalía highly-covetable lip combo was revealed, the go-to products she's been loving for a defined, pouty look perfect to wear through the rest of the year and beyond.
Dressed in a crisp white shirt and wet waves, two of her aesthetic signatures, she turns on her front-facing camera to address fans directly. Of course, she's speaking exclusively in Spanish, but the ever-trusty Google Translate app helps break it all down. After saying she's been seeing everyone asking about her preferred lip combo at the moment, she jumps right in to the tutorial. First, she breaks out a chocolate-brown NYX pencil in the shade Cold Brew, carefully outlining her upper and lower lips and then gently shading them along the sides.
Here's where things get high-key brilliant, though. From there, she picks up a fluffy eyeshadow brush — it's hard to see exactly which one, but MAC's #224 is a safe bet — and lightly blends it all in. Throughout the entire process, she continues to emphasize that the key is to not care so much about making it look laser-precise or totally perfect. Introducing the next step, she pulls out a tube of Byredo lipstick in the shade Earth Dust and gingerly dabs it across her entire mouth. "Don't go overboard," she warns in Spanish, demonstrating the very light hand she uses.
At last, it's time for the two-part grande finale. After blotting on a bit of Benefit's original Benetint — "just in the center," Rosalía specifies in the video — she slicks on a pinky-red Kylie Cosmetics formula, which she says she likes because it's part oil and part gloss. "And now hey, each one of you is gorgeous," she smiles, concluding the how-to.
With just four products, she created the consummate juicy fall lip. Add another talent to her very long list. Shop all of Rosalía's favorites down below and try it out for yourself.