Riley Keough's First 'Daisy Jones' Red Carpet Look Is Pure Rock Royalty
It's in her DNA, after all.
David Crotty/Patrick McMullan/Getty Images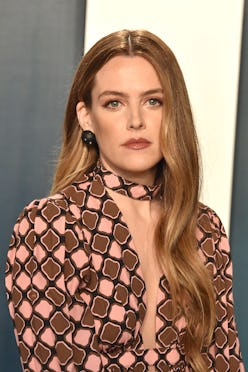 The world is still a week away from the premiere, but it already looks like Amazon Studios' Daisy Jones and the Six mini-series will be dominating conversations and group chats 'til summertime. The cast — a mix of fan-favorite actors and fresh faces alike — can take a lot of the credit for the show's buzz, and none more so than star Riley Keough. At the Daisy Jones premiere, Keough's makeup is low-key and glowing, but the subtle color technique in her auburn hair is just begging to be recreated by fans at home. Joined on the red carpet by co-stars Suki Waterhouse and Camila Morrone and producer Reese Witherspoon, the decked-out group just reignited audiences' excitement for the series, premiering March 3.
On the red carpet, Keough focused on playing up her famous feature with minimal eye makeup, dewy blush, and gentle yet polished waves through her long hair, courtesy of celebrity hairstylist Gregory Russell. Though just two days into the press tour, Russell — who works with other A-listers like Anya Taylor-Joy, Lily Collins, and Demi Moore — has already created a few free-spirited styles that glorify her hair's warm coloring and seriously impressive length.
That rich auburn is relatively new for Keough, though she's experimented with the shade before. For most of 2023, she's been firmly on the blonde end of the spectrum — this deeper color, however, is a much closer match to the one in the show's trailer and promotional material. Notably, Keough appears to have a very subtle money piece worked through her front strands. A highlights technique that really took off in 2020 for its face-illuminating effect, Keough's is just enough to add some dimension and pop. The creamy pink blush concentrated on the apples of her cheeks is the work of celebrity makeup artist Mai Quynh.
For years, Keough's leaned in to complex, often dark roles with plenty of prestige, but this pivot toward a blockbuster series is a thrilling one. After all, who better to play a rockstar than the progeny of the biggest one of all time?