Mindy Kaling Just Reached Maximum Glamour With Her Glossy Mermaid Waves
Raymond Hall/GC Images/Getty Images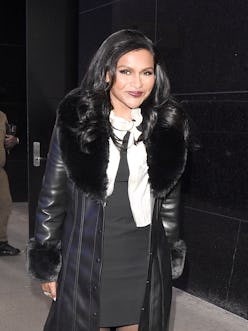 We may receive a portion of sales if you purchase a product through a link in this article.
If there were ever a place to show off a major new hairstyle, it's on the final day of New York Fashion Week. The electric energy, the A-list crowd, and the rush to spot new trends makes it an ideal venue to debut a fresh look — just ask Mindy Kaling, who took a break from her jam-packed work schedule to take in the Michael Kors Fall/Winter 2023 runway show. Even when dressed up in eye-catching scarlet red, it's Mindy Kaling's mermaid waves that really take center stage. Kaling has always loved to change things up with playful, polished styles, but her recent focus on experimentation has yielded some of her all-time best looks — her NYFW waves certainly included.
Kaling was spotted at the fashion show in the gently side-parted waves, seated in the coveted front row along with Anna Wintour and, interestingly enough, Gloria Steinem. The prime, runway-side real estate offered an excellent view of the models and Kaling's standout look, both equally likely to spark a new beauty trend. Celebrity hairstylist Tatyana B is the creative behind the waves, arranging them with gentle volume around the part to make a cascading effect reflected in the wet-look finish.
It seems like Kaling and her stylist incorporated extensions for the finished look, using extra hair for volume, body, and — of course — that gloriously dramatic length. Her natural hair is much shorter, with Kaling showing off a chic, shoulder-clearing bob on a trip to Jaipur at the beginning of February.
To complement the major hair moment, celebrity makeup artist Keita Moore gave Kaling a striking plum-toned lipstick that fits in with and plays off of her bold suit color. The shade is something of a signature for Kaling, who routinely wears it on the red carpet, on set, and in her personal life. A soft, smoky eye full of warm brown shades and tons of fluttery lashes finished off Kaling's Fashion Week look.
With so many more projects coming down the pike, keep your eyes trained on Kaling — 2023 is already shaping up to be her year. Shop the essentials you need to get her mermaid hair look just below.