Margot Robbie Will Make You Rethink Your Stance On This 'Ugly' Nail Color
Mike Marsland/WireImage/Getty Images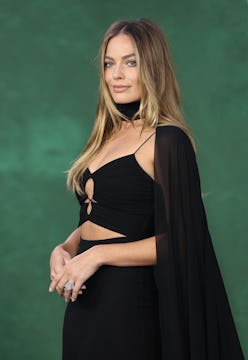 Margot Robbie is a woman blessed with more talents than one could ever name. There's her ray-of-sunshine Aussie demeanor, her excellent sense of style, that acting prowess, an impossibly symmetrical face — the list goes on. But what's still legitimately underrated is her ability to make truly anything look good, including her latest manicure that might just have you rethinking all opinions about winter beauty. Robbie's khaki nails are a custom blend of two Chanel colors that combine to form an earthy, nude-adjacent shade. Part soft brown and part true beige, it reads nearly green on Robbie as she posed at the red carpet premiere of her latest film, Saltburn.
The cool-toned color is a surprising choice paired with her black corset-bodice gown, but the risk more than paid off when Robbie arrived at the event. The suede material in the skirt portion of her outfit created an ideal backdrop to show off the green-brown manicure, which surely helped the shade win at least a few new fans over. For too long, there seemed to be something of a universal aversion to similar mani shades, in large part because of how difficult it is to categorize. It's not a true nude, it's not exactly brown, and it's hard to definitively call it a green either.
Leon Bennett/GA/The Hollywood Reporter/Getty Images
As is the case with virtually all of Robbie's cool manicures, this custom blend comes courtesy of celebrity nail artist Tom Bachik. Over on his Instagram page, he shares that the rich khaki was made by combining Chanel Le Vernis Nail Color in Beige Cendre and Brun Fume (both of which are sold out at most retailers, unfortunately), applied after prepping Robbie with his set of trusty Tweezerman tools.
To get the look at home, the best route will almost certainly be taking a page out of Bachik's book and experimenting with different color combinations. There aren't too many standalone polishes that come in khaki, but the beauty of mixing up your own means it's easy to tweak the shade to better suit your individual skin tone.
While khaki is only just now getting a real foothold as an it-color, trying it this winter means you'll be well ahead of the curve.