Lizzo's Makeup Artist Spills All The Details On Her Best 'Special Tour' Look
Bopstar beauty goes backstage.
@iwantalexx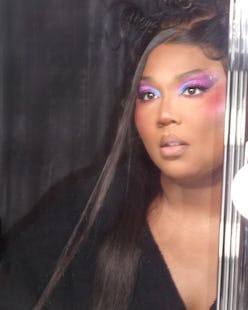 We may receive a portion of sales if you purchase a product through a link in this article.
Even the hordes of fans who couldn't make it out to a concert stop on Lizzo's worldwide Special Tour are invested in the superstar's on-stage looks. Like clockwork after each show, literal thousands flock to Lizzo and her glam team's social media pages for a closer look at what dramatic makeup, hairstyles, manicures, and costumes she debuted for the audience the night before. Lizzo's Special Tour makeup is especially captivating, playing off her outfits and venues with more than a little whimsy.
For celebrity makeup artist Alexx Mayo, the nightly goal is to not only devise creative, ever-different makeup looks for each tour date, but ensure it lasts through a full 8-hour concert that involves more than a little choreography. "For the length of time in the chair, it's anywhere from 30 minutes to an hour and a half depending on what we have going on that day," Mayo tells TZR exclusively, adding that the team starts glam around 4 p.m. each day and remove it all when the show concludes around midnight. The North American leg of the Special Tour kicked off with a special surprise, too. Lizzo brought out 20 drag queens in Knoxville, TN, standing proudly alongside them in protest of the state's restrictive legislation — which called for the most major look of the tour.
"I was really inspired by tattoo art and wanted to play with a fun pop of pink and glitter, of course," Mayo says. "I wanted to create a bold graphic eye that complemented her look for tonight, as well as use the foundation to create a smooth matte canvas." To get the pink-on-pink (on pink) look, Mayo used a slew of Clinique makeup products, fluttery Ardell lashes, and a Beautyblender, all starting with foundation — possibly the most crucial element for such an intense show. Mayo used the Clinique Even Better Clinical Serum Foundation, which he describes as long-lasting with a second-skin feel. "The longevity and performance even for a 90-minute, high-energy show is very impressive," he says. Mayo applied the face makeup with a spongey Beautyblender for a seamless finish.
With Lizzo's complexion canvas all ready, it's time for Mayo to introduce some of those bold pink tones. The coordinating tones of the Clinique Cheek Pop in Rosy Pop and Chubby Stick in Roly Poly Rosy make her bright pink cheeks and eye makeup blend beautifully, all accented by a strong pair of Ardell strip lashes.
Lizzo and Mayo's partnership has been a long and creatively fruitful one, but this look is something unique. Combining their aesthetic visions with activism for an unforgettable concert experience? Now that's special.
Shop the key elements of Lizzo's look just below.
Lizzo's On-Stage Essentials