Kim Kardashian Got Her First-Ever Tattoo In The Most Unexpected Spot
@kimkardashian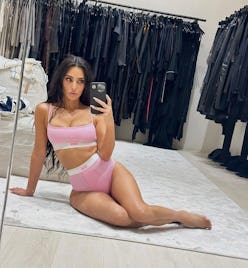 Kim Kardashian once famously remarked that her getting permanent body ink would be the equivalent of putting "a bumper sticker on a Bentley." To be fair, that was roughly 15 years ago and to say that the world — and Kardashian herself — has changed is an understatement. But to the mogul's credit, she's pretty willing to admit when she's wrong. On the Nov. 9 episode of her Hulu reality series, Kardashian reveals that she did indeed take the plunge, much to the delight of O.G. fans who thought this day might never come. Kardashian's lip tattoo is relatively small and dainty, but for her, it might as well be a full sleeve — that's how long she agonized over the decision.
In the reality show scene, Kardashian is getting glammed up and chit-chatting with her longtime hairstylist, Chris Appleton. There in the director's chair with her long waves pulled back with no-crease hair clips, she shares that she actually got her first-ever tattoo back in 2021, immediately following her Saturday Night Live hosting gig. "[That night], me and all my friends got matching tattoos," she says, turning to the camera to tell it straight to her audience. Everyone else got them on their hands, she continued, and while she was totally skeptical at first, the idea of putting the ink somewhere utterly undetectable won her over in the end.
The group of besties settled on an infinity sign to mark their group bond, with the entire tattoo process filmed and shown in the new episode. "This is how you celebrate hosting SNL," she laughs in the throwback clip, stretch out across the parlor's client benches, "with little tattoo at 4:30 in the morning." Some quick Instagram sleuthing reveals that Kardashian actually teased the ink back on Oct. 29, 2021, posting a photo of the entire group — dressed in the outfits they wore to the shop — with the caption, "It's a It's a forever thing ♾."
Kardashian says a few minutes later in the episode that she largely forgets the tattoo even exists until she catches a glimpse of the infinity symbol when she's brushing her teeth. Lip tattoos aren't as popular as they were in the mid-2010s, but the location is one often chosen by those who don't necessarily want to show off their new ink — even Kardashian's little sister, Kendall Jenner, has one that says "meow."
It's unlikely that Kardashian will continue to collect tats, but you never know — with the infinity sign down, maybe a "Live, Laugh, Love" is next.