Kim Kardashian Is A '70s Ski Bunny With This Frosty Makeup Look
@kimkardashian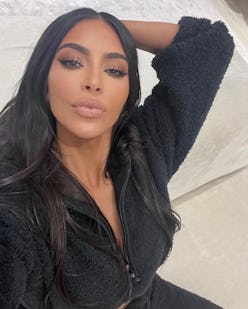 By now, Kim Kardashian's done so many photoshoots, spreads, and campaigns that it's easy to think — and that is the operative word here — that she's covered every possible base. But it feels like virtually every month, she pops back up with some wildly creative concept that totally reinvigorates her entire brand. Her latest and possibly greatest? Kardashian's frosty makeup and teased blonde hair in a new, retro-inspired ad for SKIMS. Playing homage to the glammed-up ski bunnies of the 1970s, it's at once a complete departure from Kardashian's usual look and a creative reimagining of one of the season's biggest beauty trends in general.
Kardashian's biggest fans know her SKIMS campaigns are legendary at this point, but this particular shoot, coordinated for the brand's holiday collection, is a brilliant combination of hair, makeup, theme, and the actual clothes she's promoting, too. Kardashian is featured in a gold-toned wig — a wintry shade often called "Alpine blonde" — with pops of frosty blue eyeshadow and a pale nude lip. The best part, though, are her stark white under-eyes, as if she'd spent the day on the mountain with ski goggles on. The photography was shot by Nadia Lee Cohen, the whimsical, delightfully vintage makeup naturally comes courtesy of Mario Dedivanovic, while Kardashian's hair was styled by Jake Gallagher.
Of course, the release of this too-cool happens to fall right in line with the annual resurgence of "I'm Cold" makeup. At its core, the trend is exactly what it sounds like — the wearer simply uses some strategic cosmetic placement to simulate the appearance of a wind-chilled face. Usually, pinks and reds are concentrated on the apples of the cheeks and on the tip of the nose, like an inverted version of summertime's sunburn blush trend. Kardashian's version effectively combines both, with rosy pigment blooming across her cheeks and stark white under-eyes like you'd get with obscured sun exposure. Simultaneously, '70s-inspired everything is trending across the board — from Kardashian's softly teased baby-sized beehive to that matte blue eyeshadow.
Combining two of the biggest beauty crazes of the moment and channeling them both into her brand? Now that's a businesswoman.