Kerry Washington Always Has Amazing Nails, But This Gleaming Gold Mani Deserves A Trophy
If first place were a person.
@kerrywashington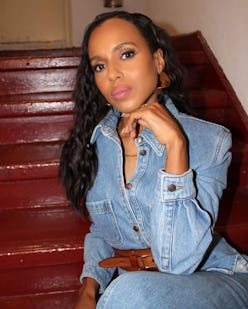 Kerry Washington's Midas touch just got a bit more literal. It's true that the multitalented creative has a preternatural knack for making projects really shine — and that includes the shows and films she acts in and produces, the philanthropic initiatives she spearheads, and now, the insightful, life-spanning memoir she's just written. It also extends to her always-excellent, ever elegant beauty choices, like Washington's gold chrome nails just spotted on the first leg of her international book tour. Long, glistening, and carefully filed down to a soft oval shape, the polish color adds a little bit of festive sparkle with every wave and hand motion.
Fans first noticed the metallic new manicure as promotions for Washington's memoir, Thicker Than Water, started ramping up ahead of its Sept. 26 release. She returned to Washington, D.C. (familiar stomping ground for those in-the-know) to kick things off, pairing the chromatic nails with a pretty toile-print Thom Browne skirt set and a bold, matte red lip — a red, white, and blue color scheme for a theme-loving star. She even took care to match her puffy gold hoops to her nails, a brilliant finishing touch that tied the entire look together through the art of strong yet subtle details.
Just a few days later, she incorporated the 24-karat-looking manicure into an entirely fresh outfit up in New York, where she continued her tour with a slew of interviews. There in the city, she gave fans an inside look at the true holiday season color scheme: green and gold. Sure, the shades featured in her sleek, monochromatic J.Crew suit are more of a tropical, nearly neon tone rather than the deep evergreens typically associated with December — but the way pops of yellow-gold naturally complement any type of green (and vice-versa) is applicable knowledge all year-round.
While the exact nail artist behind the luxe manicure is still unknown — the smart money is on Kim Truong, the creative behind many of Washington's coolest looks — one thing is for sure: they work fast. Not long after touching down in New York, she'd traded the gold nails in for an extremely trendy, fall-friendly shade of rich, chocolate brown.
In just a handful of days, Washington served up enough nail inspiration to generate ideas through the rest of the year. Try gold, try brown, try them both mixed together — it's likely only a matter of time before Washington does.