If You Need An Instant Confidence Boost, Try Out Kerry Washington's Hair Jewelry
@kerrywashington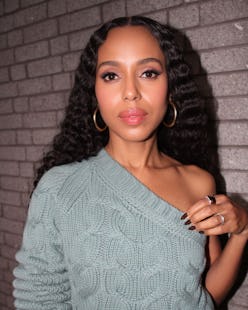 All of Kerry Washington's best hairstyles are worth of recreation, but her updos have always been something special. They run the gamut, too. Sometimes they're impossibly elaborate, twisted up into voluminous, highly detailed sculptures. Other times, they're effortlessly elegant and so casually polished. Her latest look falls between both categories, a seemingly simple style made more intricate by her blonde-streaked two-tone plaits and the gleaming gold cuffs placed throughout their lengths. Washington's braids ponytail is more than just a textbook example of a high-hoisted, off-your-face hairstyle — it's the look you absolutely need to keep in your back pocket this holiday season.
Like so many of Washington's all-time coolest braid moments, her newest set comes courtesy of celebrity hairstylist Takisha Sturdivant-Drew. From the looks of things over on Instagram, Washington had her blonde braids woven in around the start of the month, just in time for the next promotional leg of her worldwide book tour. Just two weeks later, though, and she's spun them into a near half-dozen different, totally distinct looks. But this tall, perky ponytail is a standout even among those aesthetic gems. Part of its charm is in the placement — the higher it sits on the crown, the more cheerful and happy-go-lucky it looks.
But there are a few other elements that set Washington's look apart from your standard errand-running updo. Perhaps most important are the small selection of braids wrapping around the ponytail's base, obscuring any clips, ties, or pins. It's an easy step to add to any similar style, but it instantly elevates the entire thing. Then, of course, there are the gilded beads and metallic cuffs that play off her sunny blonde streaks and add an undeniably luxurious touch. She uses them sparingly, preferring to strategically place them through just a few individual braids for subtle shine. Washington's long been a fan of hair cuffs, wraps, beads, and rings in general, but they're even better next to her large gold tube hoops and the oversized buttons dotting her Versace jacket.
With those holiday celebrations right around the corner, Washington's party-ready ponytail is the rare hairstyle you can both plan for in advance and keep as an emergency backup lest you run out of time or are feeling creatively tapped. With her excellent sense of personal style and world-class glam team, she's the ultimate anytime inspiration.