Kerry Washington Swears By These Celeb-Favorite Tools For A Sculpted Face
@kerrywashington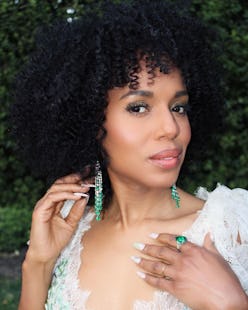 We may receive a portion of sales if you purchase a product through a link in this article.
By now, it's practically prescriptive: if you need to add gravitas, grace, and some serious zest to a project, you call Kerry Washington. It's part of why the multi-hyphenate star wears so many hats, including (but certainly not limited to) actor, activist, producer, director, and ambassador. It's no wonder she's been the face of Neutrogena for so long, though Washington's willingness to readily share her beauty secrets makes her something of a Hollywood anomaly. Take Kerry Washington's spring skin care routine — when TZR spoke with the Unprisoned star for her take on all things seasonal beauty, you'd have though she was casually swapping recommendations and favorites with a longtime friend.
Since her earliest appearances on camera, Washington's grabbed focus with her well-honed talent — but even casual viewers of her biggest hits stayed tuned in for her easy elegance and radiance, palpable even through the screen. Washington's face is quite literally part of her livelihood, so time and attention to skin care is both a fun hobby and an essential task. As the seasons change, Washington shares, tweaking her daily routines and products are more than necessary. Ahead, TZR talks all things spring beauty with Kerry Washington, from her past struggles with eczema to the devices that keep her sculpted and snatched.
According to Washington, while she swaps out her skin care formulas and methods with the changing seasons, there are some permanent products that stay with her year-round. "There are certain things that I do all the time, like I always use an SPF but I'll change I adjust my cleansers or my moisturizers at different times," Washington explains, adding that sunscreen and retinol are her two most consistently-used skin care products across the board, regardless of season. She also turns to sculpting devices frequently, sharing, "I really am into the Skin Gym devices, I like those a lot."
Washington is so synonymous with fresh, glowy skin that it might as well be added to her Wikipedia page, but she refreshingly shares that even she has some beauty vices she's trying to quit. The actor tells TZR that she's especially excited about Neutrogena's new pimple patches, part of the brand's acne line, personally testing nearly every kind out there as part of research and development. "I can be a bit of a picker when it comes to blemishes, which is such a bad habit," she explains. "I think it comes from, as a kid, having eczema and always itching and scratching — that sort of sensory, tactile thing." The pimple patches do double-duty as a way to heal the blemish and keep from messing with it all at once, she says.
Spring is practically defined by the fresh blooms and breezy, warmth-tinged air, so spending more time outside is a given. Washington's big, manicured backyard is often a lush backdrop for her Instagram photos, made all the better by a glimpse of dewy, hydrated skin or a bright, cheerful lip color. "[My] first spring go-to I would say I really love our Hydro Boost Gel Cream," she says, explaining that she layers it with the Neutrogena Mineral UV Tint, her favorite SPF pick for avoiding white casts and residue. She also calls out the brand's Hydro Boost Multi-Use Stick, a travel-friendly twist-up loaded with hyaluronic acid. "It's this very universal tone and universal shade that's so beautiful for lip and cheek, and just adds that sort of fresh springtime glow. It all feels very natural because it's in the same skin tone, the same rosy glow everywhere."
When it's time to wind it all down at night, Washington has her routine down pat. She's worked her way up to applying retinol every other night, and says the more she uses it, the more effective she finds it on things like dark spots, fine lines, and discoloration. "I love that our rapid Rapid Wrinkle Repair Retinol Pro+ .3% Night Cream also has hyaluronic acids so I see the moisturizing and efficacy immediately."
Clearly, Washington's routine is working — and might be an ideal jumping-off point for those looking to shake up their spring skin care. Shop all of Kerry Washington's favorites, just below.