Charlotte Tilbury's Pillow Talk Blush Wand Is The Smoothest Liquid Blush I've Ever Tried
A true subtle pop of color.
Courtesy Of Vanese Maddix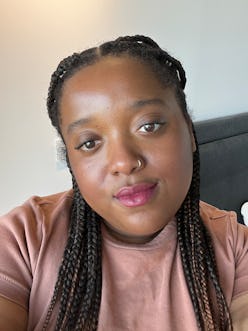 We may receive a portion of sales if you purchase a product through a link in this article.
In our series Trial Run, TZR editors and writers put the buzziest new beauty products to the test and share their honest reviews. This week, beauty writer Vanese Maddix is testing out Charlotte Tilbury's Pillow Talk Matte Beauty Blush Wands.
I've never been as mesmerized by red carpet beauty looks as much as I have this awards season. While Zendaya's bouncy bob and Haley Lu Richardson's statement red lip captured my attention, I was completely transfixed by the gorgeous blush seen on Lizzo and Kacey Musgraves at the 2023 Grammys. Typically, I rummage through my ever-growing collection of beauty products to help me recreate a celebrity beauty look, but after seeing the musicians' makeup that night, I kept refreshing their makeup artists' Instagram feeds in hopes that one of them would share the products they used. Luckily, the standout blush was revealed: Charlotte Tilbury's Pillow Talk Matte Beauty Blush Wands.
The new matte blush wands are inspired by the brand's best-selling beauty light wands, which are a highlight-blush hybrid that the internet went wild over back in 2021 (myself included) after Madison Beer used them in her Vogue beauty secrets video. This launch also pays homage to the brand's iconic Pillow Talk franchise which started with the brand's Lip Cheat Lip Liner a decade ago, and has expanded into more lip, cheek and eye products that are said to be "universally flattering".
So, with that in mind, I put the blush wands to the test to see if they'd look just as good off the red carpet. Keep reading for my honest thoughts on the Charlotte Tilbury Pillow Talk Matte Beauty Blush Wands.
Fast Facts
Price: $42
Size: 12 mL
Clean/Cruelty-Free: Yes
Best For: A sheer flush of color on the cheeks that's easily buildable
Ingredient Highlights: Lumi blur technology (a blend of light-reflecting pigments and soft-focusing silica)
What We Like: Not drying; lightweight, velvety, color that can be subtle or built up
What We Don't Like: Not as pigmented as the Charlotte Tilbury Beauty Light Wands
Rating: 4/5
How TZR Keeps Score: 1/5: Making a return; 2/5: Keeping as a backup; 3/5: Finishing to the last drop; 4/5: Recommending to my group texts; 5/5: Already on auto-replenish
The Formula & Packaging
The formula is infused with "lumi blur technology," which the brand describes as technology that "captures and reflects the light and blurs the look of the skin for a baby blush from within, as well as flawless film formers that glide on and deliver a dreamy, soft-focus finish." It comes in four shades: Pink Pop (matte pink), Pillow Talk (matte rose), Peach Pop (matte peach-orange), and Dream Pop (matte cherry-pink). According to the brand, each shade is heavily pigmented and can be built up for a more dramatic finish.
As for the packaging, its just as aesthetically pleasing as the brand's beloved Contour Wand and Beauty Light wand, with the same great cushion applicator for easy application.
What I Look For In A Blush
Finding the right blush is extremely important to me as it's one of my favorite makeup steps. I just love that blush has the power to add a nice flush of color to the cheeks and really nail a sun-kissed look. My go-to blushes currently on rotation include MERIT's Flush Balm Cheek Color and the super creamy Tower 28 Lip + Cheek Cream Blush, so needless to say, I prefer cream formulas, another factor that made me curious to try the new Charlotte Tilbury wands.
Shade variety is another thing I look for as shades from deep pinks to tangerines really complement my complexion. I was impressed with how different each of the four matte beauty blush wands are from one another because there's truly one for every complexion and blush style.
My Experience & Results
As soon as I saw the "matte" in the name, I was ready to back out and leave the testing to the people who swear by all-matte everything, but the constant stream of TikTok reviews made me even more curious to give the formula a try. Since my skin type is normal-to-dry and with spring quite literally around the corner, I trusted that my skin would be able to handle the formula as the weather hasn't been too drying on my skin. To my surprise, while the formula does dry down matte (as to be expected) it has a super lightweight velvety feel that was non-drying.
When applying the blush, you have a few seconds to really work the formula into the skin, after that, it's much harder to manipulate. A little does really go a long way when applying the blush to your cheeks, with the brand calling the wands "a one-dot wonder for baby blushed skin." To apply, the brand recommends starting with "one dot on the apples of the cheeks for the day, two for a date, and three for a disco." I personally prefer blending out my blush with a blush brush, but found using a sponge and my fingertips offer the same great results.
The formula really does add a soft blur to the skin, which impressed me. The one downside I've seen mentioned in TikTok reviews — and that I'd have to agree with — is that the color payoff isn't as pigmented as described. However, it is buildable, but you do have to use quite a lot of product, which isn't something I found with the brand's Beauty Light Wand. Pigment aside, the liquid formula glides softly onto the skin and sheers out in seconds.
Despite my initial reservations about the matte formula, I've found myself constantly reaching for the matte blush wands. The two shades that have become my go-to are the cherry "Dream Pop" and the charlottetilbury.com exclusive rosy-mauve "Pillow Talk". Bonus: both shades layer well on top of each other for an extra pop.
Are The Charlotte Tilbury's Pillow Talk Matte Beauty Blush Wands Worth It?
The Charlotte Tilbury Pillow Talk Matte Beauty Blush Wands have exceeded my expectations thanks to the subtle but noticeable pop of color the formula adds to the cheeks, and its unique blurring technology. At $42 a pop, the blush wands are definitely at the higher price point than other options, but they are unique to what's currently on the market. Plus, I personally don't think you need to get all of the shades — just the one you think you'd reach for the most.
I'd love to see the brand infuse the lumi blur technology into future lip products as I think the soft blur effect would work really well, but for now, I'll continue to reach for the matte blush wand until the very last drop.