Julia Roberts, Zendaya, & Lily Collins Celebrate Female Power In Lancôme's New Campaign
A strong start to Women's History Month.
Variety/Penske Media/Getty Images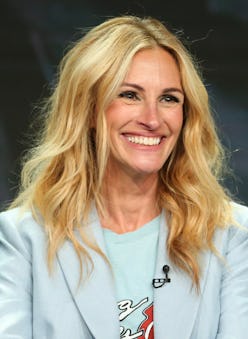 We may receive a portion of sales if you purchase a product through a link in this article.
In 2012, Lancôme introduced the world to its newest fragrance La Vie est Belle with muse Julia Roberts at its helm. Needless to say, the pairing was iconic and unmatched — much like the reveal of the brand's latest campaign featuring the full Lancôme ambassador family. For the first time in La Vie est Belle's history, Roberts is joined by fellow muses Amanda Seyfried, Isabella Rossellini, Lily Collins, Penelope Cruz, Zendaya, along with new faces actress/model Hoyeon, and singer Aya "Coco" Nakamura.
From its debut, La Vie est Belle, a warm blend of spring flowers, earthy patchouli, and vanilla, garnered fans of all ages and quickly rose to icon status. For 11 years, Roberts has led countless campaigns and has effortlessly embodied the fragrance's namesake and proverb: Life is beautiful. And what could be more iconic than celebrating said motto, with the unity of the powerhouse women like La Vie est Belle's newest cast?
For Lancôme, that means celebrating the diversity and aesthetics that makes each one of these women unique. Equally iconic, yet totally different, the faces of La Vie est Belle's latest campaign represent the Lancôme women around the world. Beautiful, influential, and full of life, the new cast confidently radiates happiness and the power of La Vie est Belle's message.
The campaign was shot by fashion photographer legend Mario Sorrenti and beautifully captures the distinct essence of each woman as they pose freely. To further accentuate their uniqueness, each woman is styled with a simple look that seems to showcase their personality and individual power. Along with the images, the brand introduced a short film, shot by rising director Emmanuel Adje, featuring a reimagined version of What a Wonderful World sung by women, and a series of video portraits that showcases the unstoppable power of sorority.
Eleven years ago, Lancôme first declared, "Life is beautiful," and its meaning still resonates today. But if you're in need of a little boost of feminine power to get you through your day, just spritz and embody one, or all, of the faces of La Vie est Belle.