Jennifer Aniston Got A Very *Different* Kind Of Blowout On Her Paris Press Tour
Steve Granitz/FilmMagic/Getty Images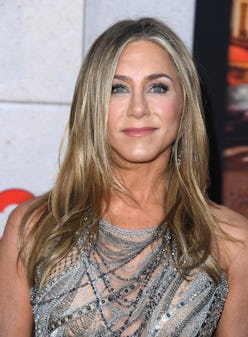 Part of why Jennifer Aniston's been one of America's best friends for decades now is her inability to keep it anything other than totally real. Sure, her net worth features an eye-popping amount of zeros, she hangs out with the most elite A-listers, and her hair is preternaturally perfect, but Aniston doesn't shy away from the realities of day-to-day life either — even when she's doing something as outwardly glamorous as promoting her new film in Paris. For several jam-packed days of press around her movie, she's the consummate star in glittering gowns, but it's Jennifer Aniston's classic black pedicure that's really able to bridge the gap between her different outfits, acting as a full-fledged accessory in its own right. But so committed to the look is Aniston that she had to take matters into her own hands and add a little bit of DIY work to her pedicure.
In a hilarious behind-the-scenes vlog from her time in Paris, Aniston is seen blowdrying her feet while hairstylist Chris McMillan works styling her famous highlights. Presumably speeding up the polish-drying process, she deadpans directly into the lens, "This is glam." Frankly, regardless of if she was trying to dry her nails, seal in a spray tan, or just get a cool blast of relief on her feet after hours of heel-wearing, it's all pretty damn relatable.
While her pedicure polish choice is undoubtedly chic and complements every ensemble in her press tour wardrobe, it's just one part of her excellent beauty looks from Paris. Celebrity makeup artist Angela Levin gave Aniston a series of steely gray smoky eyes for intensity, while McMillan put the spotlight on her fresh blonde highlights with a classic, voluminous blowout. Notably, the pieces around Aniston's face are looking especially bright and sunny, illuminating her entire complexion.
Often referred to as a "money piece", a pop of brighter or contrasting highlights around the face is at once very trendy and quite classic — the technique was especially prevalent in the 2000s, though the pieces in question were often much chunkier than the thin slivers of blonde and brunette popular now. But really, if anyone could bring back the look's Y2K version, it's the ever-influential Aniston.