Harry Styles Translates Songwriting Skills Into The Development Of His New Fragrance Line
Anthony Pham/Getty Images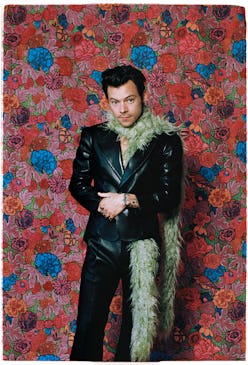 We may receive a portion of sales if you purchase a product through a link in this article.
Time to give Harry Styles some credit outside of the music world. When he first announced the arrival of his gender-inclusive lifestyle line, Pleasing, he was not only an early adopter of the now-ubiquitous celebrity beauty brand, but it never felt like an off-brand cash-grab. Styles loves to embrace traditionally masculine and feminine elements on-stage and in real-life, making his colorful collection of user-friendly cosmetics a seamless fit. His latest launch, though, is his best combination of aesthetic and artistry so far. Styles's Pleasing fragrances are finally here, and each one is loaded with a novel's worth of backstory and corresponding scent composition. Really, the trio of perfumes are like an olfactory version of a Styles song — sultry, consuming, and sure to be in high demand.
The simple yet sophisticated fragrances were created in collaboration with celebrated perfumer Jérôme Epinette, who worked closely with Styles himself to establish key notes, themes, and narrative. According to press materials, keeping the scent profiles streamlined and minimalist was key throughout development, as Styles informed the formulation with his distinct memories of time and place. The ultimate goal is that the perfumes feel more like a an amplified glorification of the wearer's natural musk. Styles de facto announced the launch with a special feature in Vogue, which doubled as the debut of his newly-shaved head.
Closeness Eau de Parfum, a woody musk, will surely be a breakout favorite throughout the rest of winter. Loaded with orris butter, Australian pink pepper extract, cashmere woods, salted musk, and heady cardamom, it's described as: "A brush, a touch, a whispered 'yes.' Skin pressed against skin, soft, matte, glowing underneath the light of the moon, while still, deep water reflects swift-moving clouds from above." Sounds distinctly sexy, no? That might be why some fans speculate in comment sections that the scent could be based on an ex — or his current girlfriend, Taylor Russell.
For those still missing summer, the heat never burns off with Bright, Hot Eau de Parfum, a woody-amber blend that just feels like a late August day. This one is infused with plum and tobacco leaves on top, which settle into Texas-sourced cedarwood, amber, and creamy vanilla blends. "Fading into sleep beneath the hot sun. Eyelids gently, slowly shut, the orange hue behind closed eyes transforms into a canvas for a dream. An exhilarating adventure," the Pleasing description reads — sounds like something straight out of A Fine Line.
Finally, there's Rivulets Eau de Parfum, which feels tailor-made for the bold. A bracingly fresh floral-meets-amber blend, the real star of the show are the white linen accords, lemon, and skin musk. The uplifting description likens this fragrance to "a delightful encounter with a stranger. Strolling, wandering, floating like tiny specks caught dancing in the slanting light of an unfamiliar room. Time suspends, the space remains constant, the center of an old world, new again." According to press materials, the ambrette that anchors the entire scent is harvested from El Salvador, where perfumer partners with local farmers to sustainably and ethically gather the high-quality, musky flower.
Pleasing-branded pop-ups are selling the fragrances in New York and London, while they're also available online. And on Dec. 1, fans can expand the scent to their surroundings with a corresponding candle drop. Shop the three distinct scents just below.