Queer Latin Musicians Are Using Beauty To Challenge Machismo
They're disrupting the status quo with everything from fade haircuts to fake mustaches.
TZR; Getty Images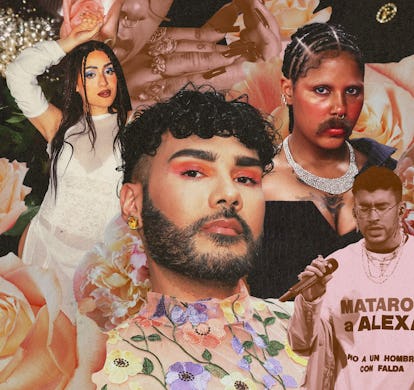 When was the last time you saw a straight man wearing fluorescent stiletto nails?
Puerto Rican superstar Bad Bunny has made headlines for challenging gender roles with his aesthetic choices. He's sported intricate manicures (including the aforementioned set of extensions), dressed in full drag, and worn an outfit honoring Alexa Negron Luciano, a trans woman murdered in Puerto Rico, for a Jimmy Fallon performance. He's a straight, cisgender male, but he's opened the doors of mainstream media to a new generation of queer Latinx artists using beauty to challenge machismo and homophobia in Latin America.
The National Library of Medicine defines machismo as a social construct encompassing "positive and negative aspects of masculinity, including bravery, honor, dominance, aggression, sexism, sexual prowess, and reserved emotions." Its counterpart, marianismo, centers passivity, self-sacrifice, and chastity for women. Both are rooted in Catholicism, the branch of Christianity most closely linked to post-colonial Latin America. In the late 15th century, Spanish and Portuguese colonizers arrived in the region and used Roman Catholic "missions" as their rationale for overthrowing indigenous ways of life. The missions prioritized belief systems that set the stage for widespread homophobia, which has permeated ever since. In 2019, four LGBTQ people were murdered every day in Latin America. Today, queer Latin Americans combat discrimination through large-scale protests and intuitive acts of resistance — like using beauty products to express exactly who they are.
"There was a time when I couldn't even wear eyeshadow walking the streets of New York without being targeted for being not only Latinx, but also wearing makeup," Loco Ninja, a queer Puerto Rican recording artist and beauty influencer, tells TZR. "We aren't supposed to challenge the machismo that runs deep within the communities we're from, but we're finally putting our foot down and shaking off fear thanks to those who challenge social norms and want to put an end to social stigmas within the Latinx community."
The late Puerto Rican astrologer Walter Mercado is among the few mainstream Latin celebrities who challenged the status quo before it came into fashion, unapologetically embracing androgynous beauty as early as the 1950s. Bad Bunny's recent astronomical fame brought those gender-fluid sensibilities to a global audience, where LGBTQ artists like Puerto Rico's Villano Antillano, Mexican-American Snow Tha Product, and Dominican Tokischa have taken the helm in wearing their queerness on their sleeve. Openly trans Villano leans into hyper-femininity with waist-length wigs and perpetually glossy lips. Snow, who identifies as bisexual, regularly dons her full-sleeve tattoos with a full face of makeup beat to the gods.
For her part, bisexual artist Tokischa has made headlines for avant garde looks that serve as conversation starters. On the red carpet of the 2023 Premios Lo Nuestro, a Latin music awards show presented by Univision, she styled a deconstructed Jean Paul Gaultier suit with cornrows, bleached brows, popsicle red lips, and a fuzzy handlebar mustache. Her juxtaposition of masculinity and femininity nodded to fellow bi-con Frida Kahlo, whose legendary Self-Portrait with Cropped Hair features a similar ensemble.
"Tokischa is one of the trailblazers setting the 'natural beauty is beauty' standard and standing within that," says Loco Ninja. His personal taste gravitates toward statement eyes, bold brows, and flawless skin. It's a contrast from Tokischa's, but comes from an equally genuine place, and to him, that's what matters most. "It's inspiring to see someone within the queer community show up authentically and say, 'This is beauty, I am beauty.'"
For some queer Latin musicians, self-expression takes a more subtle approach. Consider La Cruz, an up-and-coming Venezuelan reggaetón artist whose fresh-faced look contains few of the feminine attributes one might expect from an openly gay male musician. He may be taking the opposite approach to the Tokischas of the world, but by presenting in traditionally masculine ways while remaining open about his queerness, he's turning machismo on its head.
"The truth is, I've always liked my haircut with a fade, and I like the little stripe in my eyebrow that makes it look cut in half," La Cruz explains in Spanish. He cites Ricky Martin, a fellow masculine-presenting gay Latino, as a source of inspiration. "In reality, gay artists inspire me more for their stories and their trajectories than their aesthetic choices. On the level of beauty, I always have to be incredibly personal to express something real for my community, my fans."
A typical La Cruz look includes the aforementioned fade and partially-shaved eyebrow paired with bare, glowing skin. Occasionally, he'll add a subtle glossy lip, but for the most part, he's adopted a polished form of masculinity that Latin media usually reserves for the straight male ideal.
Queer Latin artists' beauty choices have come with more than their fair share of backlash. When Tokischa posted her mustache look on Instagram, users flooded the comments section to express their disapproval. "Everything to attract attention," one person wrote in Spanish.
"When my team and I travel through Latin America, we always say we need to be super grateful for all the kindness of our supporters, but we also need to be very alert around those we don't know," La Cruz says. "There's a lot of repression and a lot of homophobia. We're grateful for the people who follow us, but we're also aware of those who might not be on our side."
Yet the artists' authenticity also generates intense adoration from millions of young LGBTQ fans who not only see themselves represented in their music, but they also see public figures stepping into their sexuality in ways they may never have imagined.
"Imagine logging into your social media and seeing the Tokischas and Loco Ninjas challenging everything [tradition] said we shouldn't be by reshaping the world of beauty," Loco Ninja says. In his mind, today's queer Latinx musicians change beauty standards for the better when they express themselves where the rest of the world can see them. "We're impacting the next generation by simply showing up and putting fear in our back pockets."
If fans learn one thing from La Cruz, his music, and his beauty choices, he wants it to be this: "We all have to be our own people. We have to feel free to do what we want, and ultimately do it with respect and without trying to hurt anyone. That's the key to so many successes."