Hailey Bieber Wore White To A Wedding & No One Seemed To Bat An Eye
Anything goes in Hollywood!
@haileybieber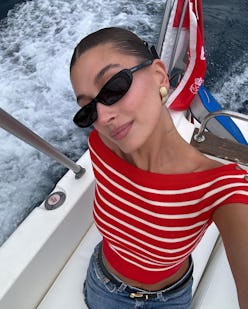 We may receive a portion of sales if you purchase a product through a link in this article.
Weddings, like most ritualistic gatherings, typically have established etiquette that most people follow. One of those cardinal rules is that you simply don't wear white in order to avoid clashing or taking attention away from the bride. In a Hollywood plot twist this week, however, Hailey Bieber eschewed tradition by rocking a white wedding guest dress to her friend Stephanie Shepherd and Larry Jackson's nuptials in Beverly Hills. (For a little game of who's who: Shepherd used to work for Kim Kardashian while Jackson is the global creative director at Apple Music — so the party was rife with celebrity sightings, including Naomi Campbell and Kris Jenner.)
For the elaborate affair, Bieber opted for a cutout long-sleeve, turtleneck number from Vietnam-based brand Fanci Club. The dress is still available to shop in black and red on the website, but not in white, so it appears Bieber might've gotten it custom made for her. A blue shearling Bottega Veneta Jodie bag and a coordinating eyeshadow look served as the model's finishing touches.
You likely have many questions after seeing her outfit: Did she ask Stephanie for permission to wear white? Maybe she's a chill bride and didn't care? Perhaps frivolous wedding rules don't apply to celebs? After all, stars and their guests have a history of breaking fashion traditions, whether it's the bride getting hitched in a jumpsuit or the attendee wearing a cutout dress that leaves little to the imagination — like Kendall Jenner's Mônot look from 2021, which caused a stir online with fans. All this is to say, a Hollywood wedding might be more lax than one may assume.
On social media, it seems Bieber's crew was in full support of her wedding guest attire when she posted the dress on her IG. Vanessa Hudgens wrote "Obbbbbsessed" in the comments section while Kylie Jenner said "oh 😍😍😍😍😍." Based on the approvals from her friends, it appears celebs are indeed way more chill when it comes to following (or ditching) wedding protocols.
Should you want to follow in Bieber's fashion footsteps, you can shop similar backless designs, below, to wear to your friend's wedding — just make sure to clear your pick with the bride first. If white is a solid no-no for guests, don't worry as you can still get Bieber's sultry vibe by opting for her Fanci Club dress in red or black.