Chic Halloween Cocktails That Are As Sophisticated As They Are Spooky
MEZCAL UNIÓN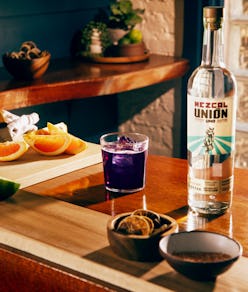 The spookiest month of the year is officially upon us, and it seems everywhere you turn there's some form of grim and gory decor or theme coming at you. That's all well and good, and one can't deny the obvious appeal of a festive Halloween soirée, but what if you want to partake in the season but keep things chic and sophisticated? Well, an easy way to elevate a seasonal party is with your cocktail selection. Spirits are often the heart of any gathering and can help you guide your vibe in a specific direction. So, this Halloween, ditch the chintzy bloody fingers and zombie references and go for more subtly creepy and spooky cocktails to carry the message home in a more figurative way.
For instance, smoke tops are a great way to add the illusion of a witch's brew to an otherwise simplistic cocktail. You can also use natural ingredients like fruits and veggies to act as edible props — like cucumber spirals for sea monster tentacles or chili peppers for devil's horns. And then, for super low-lift concoctions, simply opt for seasonal flavors and produce (apples, pumpkin, cinnamon, etc.) for drinks that taste festive, even if they don't necessarily look it.
Ahead, we tapped brands, mixologists, and establishments across the country for chic Halloween cocktails to take your next party to cool new heights.
Nightmare On 9th Ave
"This Halloween-inspired cocktail starts with butterfly pea flower-infused Belvedere, which is a smooth and floral vodka," says Donny Largotta, beverage director at Gansevoort Meatpacking NYC. "Mixed with the herbal notes of green chartreuse, some sweetness from St. Germain Elderflower Liqueur, and yuzu juice to add a little tartness, this drink brings a unique, balanced, and delicious flavor to the palate. To add a little show, we use a smoke top on top of the glass before garnishing with an orange peel."
Ingredients
1.5 oz butterfly pea flower infused Belvedere Vodka
.25 oz St. Germain
.25 oz green chartreuse
.25 oz yuzu juice
Directions
Incorporate your ingredients, shake, then strain into a coupe glass. Finish with a smoke top effect and orange peel garnish.
Monster Marg
The thinly-sliced cucumber ribbons wrapped around the glass and floating in a green cocktail resemble monster tentacles for this refreshing creation by 21 Seeds Tequila that's great for all the horror movie lovers out there.
Ingredients
1.5 oz 21SEEDS Cucumber Jalapeño Infused Tequila
4 oz cucumber pureé
0.5 oz simple syrup
0.5 oz lime juice
Directions
Add all ingredients to a shaker with ice and shake for 30 seconds. Pour into a black salt-rimmed glass decorated with cucumber slices. Garnish with cucumber ribbons.
Mezcal UNIÓN Solsticio
"Reminiscent of a witch's brew, the Mezcal UNIÓN Solsticio is pretty in purple and crafted from a unique blend of ingredients to conjure a cocktail that is both floral and fruity," reads an official statement from Mezcal Union Uno.
Ingredients
1 oz Mezcal UNIÓN Uno
1 oz feijoa extract
0.25 oz lime juice
0.50 oz simple syrup
2 oz butterfly pea tea
2 dashes orange bitters
orange wedge
Directions
Mix ingredients together and pour over ice into a rocks glass. Garnish with an orange wedge. Enjoy!
Kiss Of Death
For creepy-glam film noir vibes, try this dark and stormy Black Dahlia-inspired concoction from Magic Hour Rooftop Bar & Lounge in NYC that has a slightly tart, crisp flavor.
Ingredients
1oz Hendricks Gin
1oz lemon juice
1oz simple syrup
3oz Prosecco
Rose Ice: Black Raspberry Tea
Directions
Combine gin, lemon juice, and simple syrup in a mixing tin with ice and shake vigorously. Pour into carafe and top with Prosecco. Place your rose ice — preferably made from black raspberry tea — in a martini glass. Pour the cocktail over the rose ice, then keep the carafe with the remaining cocktail for a top-off.
Jekyll & Hydeball
Embrace your bad side with this fruity drink from the team at Q Mixers that packs a punch. Hey, sometimes you just have to let out your inner monster.
Ingredients
1.5 oz tequila
1 oz pineapple juice
1 small dash of Tabasco
5 oz Q Sparkling Grapefruit
1 red chili peppers for garnish
Directions
Build your ingredients in highball glass filled with ice and top with Q Sparkling Grapefruit. Garnish with the tops of two chili peppers to create devil horns.
Candy Apple Spritz Mocktail
While one might not expect a party drink from meal service HelloFresh, this alcohol-free recipe is a crowd-pleaser, thanks to its seasonal flavorings, and a must for mocktail enthusiasts.
Ingredients
2 tbsp grenadine
Apple cider
Seltzer water
cinnamon stick
Directions
Pour grenadine into a highball glass and fill with ice. Fill glass ⅔ full with apple cider and top with seltzer water. Garnish with cinnamon stick. (For a boozy version, simply add a splash of dark rum and a squeeze of lemon juice.)
Bloody Mary, Bloody Mary, Bloody Mary
Say her name three times and her favorite cocktail appears. This spicy mixture from pink House Alchemy is a scary-delicious spin on a brunch time classic. Mix it up and serve it for a festive nighttime affair.
Ingredients
1 cup tomato juice
.5 oz Worcestershire
.5 tbsp horseradish
1 tbsp hot sauce
.5 oz lemon juice
Salt and pepper
8 oz vodka
2 activated charcoal capsules*
1 oz pH Smoldered Bitters
Mozzarella ball
Gooseberry with cape
Pepperoncini pepper
Cherry tomatoes
Directions
Stir all drink ingredients together, excluding vodka, activated charcoal, and bitters, which are stirred in a separate cup. Rim glasses with black sea salt and lime juice. Divide the Bloody Mary mix amongst four glasses evenly. Then, top with vodka/charcoal/bitters mixture, dividing evenly amongst the glasses. Garnish with a mozzarella ball flamed with a blow torch, gooseberry with cape, cherry tomatoes, and a pepperoncini pepper.