These Grace Kelly Outfits Are Cemented In Fashion History
Gene Lester/Archive Photos/Getty Images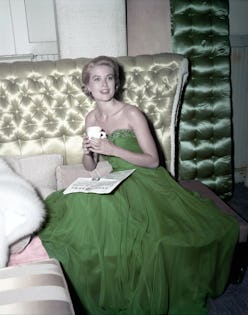 Audrey Hepburn, Lauren Bacall, Elizabeth Taylor, and Grace Kelly — what do all these women have in common? They were not only the most iconic screen stars during the Golden Age of Hollywood, but their fashion legacies also still live on today. In particular, Kelly has been referenced by many modern celebrities: Miranda Kerr's Dior wedding dress in 2017 was inspired by the actor, and Elizabeth Olsen's red carpet hairstyles have often paid homage to her as well. If you, too, examine Kelly's style over the years, you'll understand why her influence endures: not only was she a burgeoning film icon with an enviable wardrobe, but also a royal by marriage (after wedding Prince Rainier III in 1956 she was given the title Princess of Monaco today) with more than few fancy appearances to dress for.
Kelly's personal style was the epitome of elegance. She favored sophisticated pieces like crisp white button-down tops, pleated skirts, and ballgowns. That said, she also knew when to throw in several sartorial curveballs, like when she rocked jeans in 1950 or an all-black suit to Taylor's 40th birthday party in 1972 — so chic! Her looks will continue to live on in history and perhaps even be at the center of pop culture next year: Back in May, it was announced a historical film about the Monaco family called Monaco: Part I — The Rock will begin production in 2024. And since Kelly's grandchildren Charlotte Casiraghi, Alexandre Grimaldi-Coste, Pierre Casiraghi, and Andrea Casiraghi are behind the project, there's a good chance they'll have access to her archived closet.
Before you become engrossed in yet another series about royal families (fans of The Crown, The Tudors, or Harry & Meghan — this one is for you!), reminisce over one of its most beloved family member's style, ahead. Kelly's outfits are brimming with timeless fashion inspiration.
1945
We can totally see modern royals like Kate Middleton wearing a version of this button-down shirt and pleated skirt look today.
1950
In one of her more casual but still polished combinations, Kelly wore a printed top tucked into cuffed jeans and Mary Jane flats.
1954
The royal was on theme for St. Patrick's Day in this embellished green gown.
1955
The movie star won Best Actress at the Oscars this year, but her Edith Head look was an equally memorable moment in our eyes.
1956
After announcing her engagement to Prince Rainier, the couple celebrated in New York City. Kelly wore a floor-length white, ruched gown with opera gloves.
1963
The royal loved a good headpiece, be it a tiara or hat.
1966
Kelly wore this stunning, peach-colored ballgown to the Monaco Centennial Ball. She tied the glamorous look together with a curled updo and glitzy accessories.
1968
Here, the actor delivers a master class in color coordination by matching the color of her shoes back to the prints found in her dress.
1972
Kelly's superbly cut pantsuit at Taylor's birthday weekend in Budapest belongs in the books as one of her greatest fashion decisions.
1979
A glistening tiara sealed the deal on this opulent outfit.
1980
It's hard to pull off a ruffled, yellow gown but Kelly did it with grace (pun intended) and style.
1981
Just a year before her untimely death in 1982, Kelly attended her brother Jack's wedding in Philadelphia wearing this sheer white and green printed dress. The bedazzled accessories and her go-to braided updo took the look to the next level.