Emma Watson's "Levitating" Dress Defies Physics & Her Fans Have Thoughts
Edward Berthelot/GC Images/Getty Images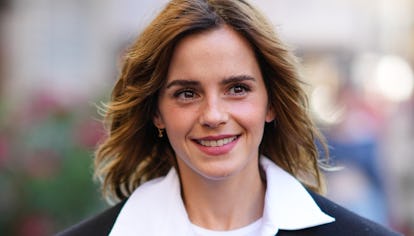 We may receive a portion of sales if you purchase a product through a link in this article.
There has been a lot of celebrity-owned companies cropping up lately, from Angelina Jolie's fashion label Atelier Jolie to Beyoncé's soft launch of her upcoming haircare brand. Between all these announcements, Emma Watson's new carbon-neutral gin brand, Renais, may not have landed on your radar. If that's the case, here's what you need to know: Back in April, the Harry Potter star shared via IG that she and her brother, Alex Watson, made their foray into the liquor industry and on June 19, she officially shared her gin ads. In one photo, Watson wears a blue dress from Loewe, which appears to be floating on her body.
Understandably, the post's comment section is flooding with questions — and of plenty LOL-worthy reactions — about the one-of-a-kind number, which comes from the brand's Spring/Summer 2023 collection. One user wrote, "What in the wingardium leviosa is that dress," referencing the spell in Harry Potter that makes objects levitate. Meanwhile, another follower said: "This dress is defying physics." Then there was a very confused fan who commented: "someone make the dress make sense pls 😭."
Let's get to the bottom of all this: The Spanish fashion house's mini dress features structured wiring underneath the bodice, which creates the style's floating effect. Moreover, the draped fabric added to the gown's optical illusion. Now that's what we call sartorial magic.
In addition to the aforementioned powder blue dress, Watson posted another pic with her brother endorsing their new gin company while wearing a tie-dye, long-sleeve dress from Loewe. In this photo, she wrote in the caption: "We took the gin, the dog and some really fly @Loewe clothes on holiday to do a first tasting of Renais with our nearest and dearest. We loved sharing it with all of you. 🥺 please get in touch if you would like to distribute us. We'd love to get Renais further around the world. 🌎 Happy holidays everyone. Love E + A (& Sofia 🐶)."
Although Watson's "levitating" number is not available to shop, you can find several similar optical illusion pieces, ahead — be prepared to confuse your peers at the next party.