*This* Is How Emma Stone Perfects Her Red-Carpet Looks
Anthony Harvey/Shutterstock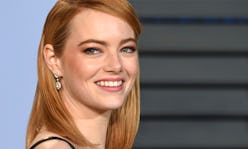 It's incredible to think that something as subtle as eyeshadow holds the potential to completely alter your look. Whether you're obsessed with bold statements like orange lids or blue lashes, or prefer to keep it soft with a smoky brown or a shimmery pink shadow, eye makeup can reflect your personality, your mood, or the occasion. Emma Stone's eyeshadow choices prove that a simple change in color or application technique can take your style to the next level.
Ahead, The Zoe Report breaks down some of Stone's very best eyeshadow looks to date, along with the products you'll need to recreate them yourself.
Smoky Liner
Stone attended Louis Vuitton's Paris Fashion Week show on March 5 wearing a unique take on a classic smoky eye. Rather than blended, dark shadow, Stone's makeup artist, Rachel Goodwin, used eyeliner as a focal point for her entire look. Goodwin highlighted Stone's striking blue eyes by smudging black liner both along the upper and lower lash lines. She lightened up the eye by evenly dusting a shimmery silver across Stone's lids, blending up toward the brow bone.
Stone's eyeshadow may look complex, but it's actually very easy to recreate when you're armed with the right products. Pro tip: Invest in a pigmented eyeliner with a narrow tip for maximum precision and easy blending.
Copper Eyeshadow
Stone stunned at the 2019 Oscars on Feb. 24 in an eyeshadow look that perfectly matched her copper-toned gown. In another collaboration with Goodwin, Stone donned "fresh skin and [a] copper graphic smoky eye," according to the beauty guru's Instagram caption. Goodwin created the ultimate blend of matte and shimmery shades, finishing with a bold pop of color in a wing shape along the actor's natural eye line.
To create this look at home, start by working a transitional tone into the crease, incorporating a darker, matte shade along your outer corner. Once you've achieved your desired shape, top it all off with a bit of sparkle on the lid and along the lower lash line.
Shop The Look
Diffused Orange
The 30-year-old opted for a bold eye makeup look that effortlessly complemented her soft, red hair color at the BAFTA Los Angeles Tea Party on Jan. 5. Her carefully coordinated ensemble centered around a warm, orange hue that matched her printed gown and modern jewelry. The key to recreating this look? A lot of blending.
Start by picking up a small amount of orange shadow on a fluffy brush and softly apply it to your lid and crease. Once you've throughly blended and diffused the orange wash, blend a dark gray or black shadow toward your outer corners. Finish it off with a swipe of mascara, a touch of highlighter, and a nude lip.
Orange may seem like a bold makeup choice, but it's quite versatile for spring and summer wear. Dress up a white dress, a floral blouse, or a tie-dye tee with the addition of this vibrant shade of shadow.
Shop The Look
Metallic Rose
In one of her most understated makeup looks of the 2019 awards season, Goodwin created a peachy pink eye to match Stone's embellished Golden Globes dress. She applied a pink shimmer hue on the lid and kept it light by swapping out harsh, black liner for a sparkly brown shadow on the upper lash line.
This look is just as radiant as it is easy to execute, making it a great option for everyday wear. Keep it natural like Stone by pairing it with a pink gloss, a barely there blush, and rose gold jewelry. Or, try something a bit more bold like a matte, mauve lip, bronzed cheeks, and a slicked-back ponytail.
Shop The Look
Gold Cat Eye
A cat eye is unquestionably a red carpet classic, especially when combined with a sparkling, gold lid. Stone arrived at the SAG Awards in Los Angeles on Jan. 27 in an especially glamorous ensemble. The cherry on top? Her meticulously drawn cat eye and slightly shiny eyeshadow. An ode to Old Hollywood with a contemporary spin, Stone paired her shadow with a berry gloss, fluffy brows, and a tousled updo with curled tresses in the front.
Practice makes perfect when it comes to mastering the art of the cat eye, but there are a few things that make it a whole lot easier. Use a felt-tip liquid liner to avoid smudging, and clean up your work with a makeup wipe or a cotton swab after you're done. Top it all off with a bit of gold shadow in your inner corners to brighten and widen the look of your eyes.
Shop The Look