Bella Hadid's Smoky Eye Is So Easy To Recreate — Here's What You'll Need
WWD/Shutterstock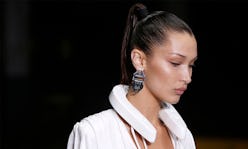 More often than not, celebrity beauty looks require an entire team of glam experts. Whether you're admiring a bold runway hairstyle or a red-carpet lip color, recreating a similar effect can seem like a daunting task. That's what makes Bella Hadid's latest smoky eye so great — it's shockingly easy to recreate (no matter your skill set).
Hadid's go-to makeup artist, Hung Vanngo, posted his latest collaboration with the 22-year-old model to his Instagram account on Feb. 16. The look featured glowing skin, soft brows, and the boldest smoky eye. Vanngo lined Hadid's waterline with a thick, ebony-colored liner, drawing attention to her voluminous lower lashes. Then, he went in with a variety of black, silver, and ash tones to achieve a ombré look on her lid, blending into a perfectly diffused wash. He likely followed with concealer and brightening powder, making her edgy under-eye liner even more of a statement.
Hadid, who posed for photos on her way to her boyfriend, The Weeknd's, birthday celebration, donned a half-up hairstyle featuring lengthy, curled extensions and a bumped-up part. She wore two pairs of diamond-encrusted silver hoops on each ear, two industrial-looking, diamond chains, and an oversized, camo-print jacket.
While the look comes off as intricate, you don't have to be a skilled artist to recreate it on yourself. In fact, you likely already have one of the key tools to achieving Hadid's look laying around in your desk drawer.
Do you notice how clean Hadid's eyeshadow line is? Instead of using a liquid liner to create a masterfully flicked wing, you can create a similar effect with eyeshadow. If you're nervous about catching the fall out or achieving the shape, use a piece of tape to ensure you're creating the cleanest line possible.
Simply tear off a tiny piece of tape, angle it from the corner of your eyelid, and apply your layers of smoky shadow as usual. Once you're done, remove the tape, apply your base, and you'll be left with a Hadid-worthy wing.
Below, shop the products you'll need to flawlessly copy Hadid's latest beauty moment from the comfort of your own home.
Shop The Look