Emily Ratajkowski's Favorite Indie Brands Are The Secret To Her Sought-After Style
Gotham/GC Images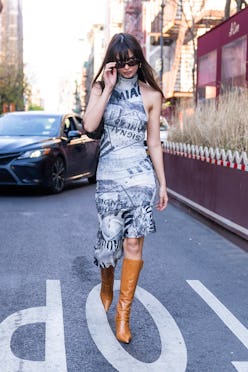 We may receive a portion of sales if you purchase a product through a link in this article.
Emily Ratajkowski's knack for wearing risk-taking fashion is hardly a secret. Whether she's sitting front row at a runway show in an oversized Loewe flower top or out and about in New York donning a see-through midi dress and sneakers, the My Body author never misses a sartorial beat. And while she's known to step out in luxury looks from storied fashion houses like Dior and Courrèges, it's the under-the-radar indie brands Ratajkowski wears, too, that put her sought-after style in a league of its own.
One up-and-coming label that the model has recently documented her love for on IG is Mimchik, a Los Angeles-based brand that launched in October 2022. Its co-founders and rising designers, Mia Kazovsky and Emma Marciano, tell TZR they were ecstatic when the star wore their creations. "I was up super early before a flight [in February] and nearly lost my cool when I saw Emily wearing the Burgundy Leather Jacket on her show, High Low," Kazovsky recalls to TZR about the surprise moment. "I may have screamed," she admits. Marciano adds: "EmRata has always been a major style icon in my eyes. To see someone you admire so much in something you have worked so hard to make is a dream come true."
Mimchik is just one indie brand of many that are in Ratajkowski's cool-girl wardrobe. Ahead, check out the other small businesses she loves to wear on repeat — and should the label speak to you as well, add one of the TZR-approved product picks to cart.
Aya Muse
Ratajkowski has a soft spot for sophisticated, neutral-colored pieces from Aya Muse. Case in point: In February, she stepped out in the Big Apple wearing the Los Angeles brand's Eury Tailored Wool Shirt Jacket and matching Eury Wrap-Effect Wool Miniskirt, which she paired with a red baseball cap and white kicks. Not to mention, weeks after giving birth to her son in 2021, the model made headlines for her black midriff-baring cardi from the label.
Gimaguas
Whenever Ratajkowski's in the mood for a vibrant, in-your-face look, odds are she'll reach for a piece from Gimaguas. For instance, last month, while in Miami, the trendsetter went to the beach in the Barcelona-based label's raspberry-hued Simi Shorts, as pictured above. And that's not the only striped Gimaguas piece she's donned lately. In February, she spiced up a laid-back 'fit with the label's Gizzo Top; meanwhile, last summer, EmRata was seen in its multi-color vest. The consensus here? She loves this indie brand.
Miaou
The one small-owned label Ratajkowski wears religiously is Miaou. From the Karina Dress to the Anya Checked Minidress, the model always has her arsenal stocked with of-the-moment looks from the beloved brand. And the most recent Miaou sighting was perhaps just a few weeks ago when the celeb was in Miami for the Grand Prix wearing the Red Libra Corset, as seen above. She styled the statement top with Ray-Ban sunglasses, tan trousers, and strappy sandals for the sporting event.
Mimchik
In addition to Mimchik's Burgundy Leather Jacket, the model is a fan of its other toppers, including the Leather Tall Boy Jacket. She wore the roomy coat in April while spending the afternoon with her son in New York City. As you can see, Ratajkowski is a loyal Mimchik girl, so don't be surprised if she continues to work other new releases from the label into her outfits.
Jordan Road
The New Yorker's outfits are never complete without shiny hoops from her go-to jewelry label, Jordan Road. Here, she's wearing the mother and daughter-owned brand's Cloud Hoops in silver alongside a Miaou checkered number. In addition to the understated earrings, the model has other elevated styles from the Cali label in her jewelry collection, including its Monaco Hoops and Sunday Hoops. The wallet-friendly pieces won't break the bank, either, so add a few of her must-have items into your lineup STAT — they're selling out fast.