The Sweet Sound Of Suki
In the highly anticipated Daisy Jones & The Six — and her own confessional love songs — former model Suki Waterhouse has come into her own.
Written by Phoebe Reilly
Photographs by Caleb & Gladys
Styled by Tiffany Reid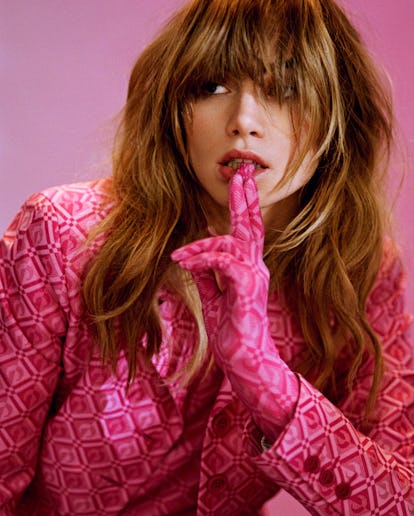 It's a big mood at Hollywood's Fonda Theatre, as the audience waits for Suki Waterhouse to take the stage. Fans had arrived hours early to secure a spot near the front, and amid their ferocious place-holding, multiple people wondered aloud if they might weep at the sight of her. The crowd is young, to the point where the line for T-shirts and other merchandise is at least three times as long as the one for the bar. They're also devoted: The girls behind me had seen Waterhouse several times before, which is a lot considering she's been touring for only a year and a half.
Actor Camila Morrone is here, at the second to last show of Waterhouse's Coolest Place in the World tour, seeing her friend perform for the first time. After stopping backstage to request a dedication, she takes a seat in the balcony. Moments later, Waterhouse struts out to a snippet of Twin Peaks dialogue, dressed head to toe in Saint Laurent. She sheds a large black coat to reveal a sparkly ruffled leotard and black booties — sexy, elegant, and a touch inaccessible, which befits a model turned actor turned musician. She amplifies choruses with emphatic arm gestures and seduces the audience like a gracious party host, thanking them profusely for being here.
"The venue took my breath away — that was probably one of the biggest shows that I've ever done as a headliner," Waterhouse tells me later. It's been a week since the tour ended, and she's now in full-tilt promo mode. She's been posted up at the Four Seasons in Beverly Hills for hours, giving interviews to support her buzzy new Amazon series, Daisy Jones & The Six (out March 3).
Based on the book by Taylor Jenkins Reid, the series chronicles the formation and flameout of one of the most iconic (and fictional) rock bands of the 1970s. With 10 episodes that each unfurl like a period film, Daisy promises to introduce a wider audience to the magnetic performer on stage at that sold-out show at the Fonda.
"I don't think I've aggressively pursued anything as much. It's not that often I go into my agent's office to be like, 'You have to get me this part.'"
"Suki's one of those girls that you want to be more like," says Morrone, who became close with Waterhouse while filming Daisy Jones & The Six. "She kind of exudes cool. I thought I was her biggest fan, I know her album by heart, but I had no idea that she was, like, a full-fledged rock star." (At the show, Waterhouse ended up dedicating "Johanna," a melancholic pop song about unrequited love, to her. "That's the one I have listened to the most. It made me feel so special.")
Ferragamo dress and briefs, Fleur du Mal bra, Lorraine West earrings, Bulgari gold ring, Alexis Bittar red ring, Le Femme heels.
Max Mara clothing and cap, Manolo Blahnik shoes.
Technically, Waterhouse is not center stage in Daisy. Riley Keough plays frontwoman Daisy Jones with the shamanic force of Stevie Nicks, and because Fleetwood Mac are an undeniable inspiration here, this means Waterhouse's character, Karen Sirko, channels the late, great Christine McVie. But Karen Karen (as she's known in the book) is a fan favorite, an ambitious keyboardist who understands the inherent misogyny of both the era and the industry. Of her bandmates, Karen is the least tolerant of the messy love affairs that interfere with making great music. She is introduced in the series as "the classiest, coolest cucumber ever to play keys." The role necessitated Waterhouse spend three hours a day during the pandemic practicing the piano in a London residence she shared with her longtime boyfriend, Robert Pattinson.
"I don't think I've aggressively pursued anything as much," Waterhouse says of the role. She's on a couch at the Four Seasons, wearing a large red, white, and black Philosophy jacket over see-through leggings that stretch to cover her platform shoes. "It's not that often I go into my agent's office to be like, 'You have to get me this part.'"
Waterhouse has been seriously acting since 2014, when she pivoted away from modeling to instead play a model in the rom-com Love, Rosie. (In a bit of synchronicity, Daisy reunites Waterhouse with her Rosie co-star Sam Claflin, who plays Billy Dunne, the Lindsey Buckingham-esque leader of the Six.) "They didn't have much hope for me as a model at the agency at that point," she says, laughing. "They were, like, you talk too much and you're really fidgety. Go do this movie."
Yet despite the dense acting résumé she's accumulated since then (including Assassination Nation, the Ansel Elgort sci-fi vehicle Jonathan, and plenty of under-the-radar indies), for most of the last decade, the press, particularly in her native England, continued to refer to Waterhouse as an "It girl." The desultory shorthand has stuck with her since her early 20s, whether she was hanging out with pal and fellow model Cara Delevingne or then-boyfriend Bradley Cooper. "I mean, look, you never go, 'Oh, this is exactly what I am,'" says Waterhouse, now 31. "I've never thought of myself like that. I've had a few different passions, and I guess I've been really lucky to be able to explore all of them. There's always opportunity to change people's perceptions."
But while she may not think in tabloid terms, she did perhaps manifest this fabulousness into existence. The other day, Waterhouse found letters that she had written to a boy whom she had a crush on when she was 14. She was telling him about the amazing summer she was going to have, traveling abroad to New York and elsewhere. "Complete lies," she says. In fact, she was stuck at home in Chiswick, babysitting her younger siblings and hanging out with her hamsters: "I was so flamboyant. I was projecting this life that I really wanted." And it worked. Today, talking about fellow singer-songwriters, she breezily says, "I love Taylor; she's been a friend of mine for years" and she's referring to Swift.
So the letters didn't lie for long. At 16, Waterhouse skipped her final exam prep and flew to L.A. alone to do a shoot with Iggy Pop for the fashion brand Chrome Hearts. Somehow, the exams went OK. ("I wasn't great at maths, but I don't think that would have changed whether I'd gone to L.A. or not," she admits.) She raised her profile with campaigns for Burberry and Tommy Hilfiger before quitting modeling at 23 during what she estimates was the height of her success. "I felt young but very old and tired from it," she says. "Maybe I kind of knew at some point it's going to come down."
The movie role Waterhouse refers to as her breakthrough came in 2016 when she was cast as Arlen in Ana Lily Amirpour's dystopian and deliriously weird The Bad Batch. She played an amputee whose limbs have been devoured by cannibals. The film co-starred Jason Momoa, Keanu Reeves, and Jim Carrey. "I didn't know anything about Suki," says Amirpour, via phone. "I judged her purely off her tape. I saw this girl that felt part woman, part child, a little bit feral. [...] She was even more compelling in person. It was only afterwards that somebody told me she had done modeling." Amirpour describes the set as a madhouse, with long hot days in the Mojave, which Waterhouse had to navigate with one arm strapped behind her back and a prosthetic leg. "She was a warrior," says Amirpour. "She has a confidence about her that's both fierce and gentle."
Around the same time, Waterhouse began releasing music, rather quietly and at the pace of one song per year. "I was really worried about being laughed out of the gate or people disapproving," she explains. Though she didn't perform it at the Fonda, Waterhouse remains most proud of her first song, "Brutally," which she shared online in 2016 and which she says was inspired by her "first massive, world-ending heartbreak." Last year, in an interview with Rolling Stone UK, she revealed "Brutally" was the result of an "incredibly toxic" breakup with an older man.
Waterhouse eventually released her debut album, I Can't Let Go, in early 2022. Her songs are sensual and shoegaze-y and often invite comparisons to Lana Del Rey, with languorously dropped F-bombs and a tableau of palm trees in the gloaming. It's a diary of her 20s, with all the attendant confusion and messiness. "Melrose Meltdown" recalls one wild night when she left the Chateau Marmont wearing diamonds she'd borrowed for an event and was too upset about a "disastrous" romance to return them. Life in Los Angeles, where she has lived part-time for the past decade, is a lot less dramatic now. "As a young woman, you're constantly up against 'Is this situation wrong or am I overreacting?'" she says. "'Do I not know the rules? Is this the time to put a boundary up?' You haven't been around long enough to have any wisdom."
Max Mara clothing and cap.
Saint Laurent by Anthony Vaccarello clothing, earrings, and bangles; Alighieri rings.
Waterhouse recorded the album alongside producer Brad Cook (Waxahatchee, Bon Iver) in late 2020. When it was time to find a label, she sent the music to Sub Pop. "I think I got an email back saying, like, 'I don't really want to listen to a model,'" she says, breaking out in a wide, toothy grin. Longtime Sub Pop A&R rep Stuart Meyer laughs when I tell him this. "Honestly, I'd heard of her, but I knew nothing else about her," he says. "At that point, what she was known for [in America] was dating Bradley Cooper." But Meyer was a quick convert, describing her as funny and prolific, and the label signed her: "We were like, 'Huh, this is good.' Folks were surprised that they liked it. I think that's what she's maybe had to overcome in some respects." Meyer saw Waterhouse play her first proper show at Napa's BottleRock festival in 2021, when she was comparatively green and unsure of her stage persona. Now, Meyer calls her a rock star. "She found her niche," he says. "I think she feels more comfortable in her own skin than maybe she did 10 years ago."
"There's always opportunity to change people's perceptions."
She's found a casual way to engage with fans in TikTok, where she gives her 650,000 followers cheeky glimpses of her life — not her life with the current Batman, but her in bed mouthing along to a Euphoria meme or hanging out in hotel rooms with Morrone. Meanwhile, in the comments, hardcore fans worry that Daisy Jones is going to blow up Waterhouse's spot and soon they'll have to share her with the wider world. Morrone substantiates their fears: "People will fall in love with her in a new way, more than anything she's done before."
Daisy Jones & The Six — which was optioned by Reese Witherspoon's production company, Hello Sunshine, and Amazon Studios long before Reid's book even hit shelves in 2019 — is a serious production. Not only did the series have to recreate the 1970s, it also had to deliver music worthy of a stratospherically successful fake band. For this ersatz project, songwriter-producer Blake Mills collaborated with Phoebe Bridgers, Cass McCombs, Marcus Mumford, and others to write the 11 tracks that became Aurora, the sole LP from Daisy Jones & The Six. Then the cast had to learn to perform every single one of them from start to finish.
Waterhouse and her co-stars spent five months rehearsing at the Valley's legendary Sound City Studios before filming commenced in September of 2021. In total, she probably played each song about 100 times? "It's closer to 1,000," she says. "I'm not kidding." Bob Dylan was recording in the studio next door, and I ask if she was tempted to talk to him about the decade during which her character, Karen, was supposed to be thriving. She looks aghast: "I would never approach Bob Dylan when he was making music."
This is something Karen would say. She's a feminist with sangfroid to spare who makes hard choices, at one point telling a potential suitor: "I want this life. Traveling, and seeing the world, and playing music with my friends until I drop dead on stage."
Waterhouse is not so much in favor of dropping dead on stage. "Karen made me think a lot about sacrifice," she says. "There's been moments in my life when I don't think there was much apart from work. Where I am right now, happiness and having a home life is so much more important to me than it ever has been." She is loath to talk about Pattinson, with whom she has been linked since 2018. When we talk, comments she made to a U.K. publication in mid-February in which she describes their relationship as "happy" and expresses a desire to have children are currently going viral. I ask if she would ever collaborate with him professionally? "I don't think I have, like, a swooping definitive answer. It depends on the situation." Is her new song, "To Love," which drops the same day as Daisy premieres, about him? "I'd rather not say."
Going forward, her primary focus is her next record. Those old letters might inspire a song, but she's still searching for material. "I wonder how that's going to go," she says. "I'm excited to find things that touch me maybe more deeply than heartbreak could." She smiles. "I have hope for the future."
Top Image Credits: Marine Serre clothing and gloves
Photographer: Caleb & Gladys
Stylist: Tiffany Reid
Set Designer: Elaine Winter
Hair: Thomas Dunkin
Makeup: Misha Shahzada
Manicure: Tak Okamura
Talent Bookings: Special Projects
Video: Rebecca Halfon, Marshall Stief
Photo Director: Alex Pollack
SVP Creative: Karen Hibbert