Endlessly-Customizable 'Ear Stacks' Are Driving Celebrities To Get Even More Piercings
WWD/Penske Media/Getty Images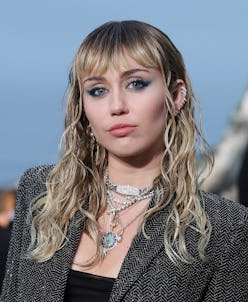 It was true as mall-trawling pre-teens and it endures today: when you want an adrenaline rush and little bit of edgy glamour, nothing beats a new piercing. With a few simple jewelry switch-outs, they can look minimalist and modern or elaborate and daring — or sometimes both, a different vibe on each ear. Accordingly, celebrities love cartilage piercings — often several of them in a row — to create endlessly customizable collections of rings, chains, and jewels, collectively known as "ear stacks." But whether a star takes to the red carpet with 10 gleaming piercings or just a sprinkling of gold studs snaking up the ear, the extra element always adds an intricacy and sense of detail that make even plain white T-shirts feel special.
Unsurprisingly, these high-profile cartilage piercings are as varied as the stars themselves, used as a fun method for self-expression for decades now. In recent years, particularly creative A-listers like Rihanna and Miley Cyrus are creating standout "earscapes" for every major red carpet they hit. Whether you've been eyeing a new stud for a while or still just mulling over the idea, just find a celebrity with a covetable aesthetic and follow their lead — there's more than enough ideas to go around.
Selena Gomez's Series Of Studs
When Gomez returned from a multi-month stay in Paris for work, she returned to the States with more than just a sense of accomplishment. On the plane home, she used that glorious window seat lighting to illuminate her new diamond studs, the latest addition to her cartilage trail.
Jennifer Lawrence's Delicate Rings
Lawrence's cool girl reputation is only bolstered by her carefully-chosen cartilage piercings. In addition to the two holes in her lobes, the No Hard Feelings star has three more delicate hoops through her left upper ear alone. The ultimate piece, though? The tiny diamond right next to her ear hole, called a conch — one of the more painful types of cartilage piercings.
Rihanna's All-Platinum Stack
Rihanna loves a monochrome moment more than anyone, and she extends the philosophy to her jewelry, too. Along with a silvery Coperni top and matching liquid eyeliner, she fastened five platinum, diamond-encrusted hoops down her ear — plus a little three-stone stud through her tragus.
Miley Cyrus's 8-Ring Lineup
It makes sense that a star as expressive as Cyrus would augment her many, many tattoos with an elaborate collection of ear piercings, too. At a Saint Laurent show in 2020, she embraced the edgier side of the trend with grunge-inspired hair and makeup, tangles of necklaces, and eight distinct rings snaking down her left ear.
Lucy Liu's Double-Ear Jewels
Some choose to concentrate most of their piercings on just one ear, but Liu makes the ultimate case for doubling up on the fun and fully decorating both. It's undeniable when looking at her diamond-everything jewelry on the red carpet, neatly balanced on each side for some extra-glamorous symmetry.
Kaia Gerber's Tiny Snakebites
By keeping everything else starkly clean, even tiny pieces can stand out. Gerber visited fan-favorite brand Studs to get two tiny piercings, collectively known as snakebites, right in the center of her cartilage. It's the "clean girl" trend turned into a minimalist ear stack.
Beyoncé's Maximalist's Constellation
When Beyoncé chose her regal, jewel-covered look for the big Lion King premiere, she simply had no choice than to go for an equally bold jewelry moment. She showed off her many piercings with a varied collection of dark hoops and rings, each covered in plenty of diamonds.
Scarlett Johansson's Adventurous Picks
Johanssons ears basically look like those little charts you see at the shop outlining everywhere possible to get a piercing — she has nearly every kind, including a thin, lightweight hoop through her anti-helix, which is the curved piece of cartilage closest to her head.